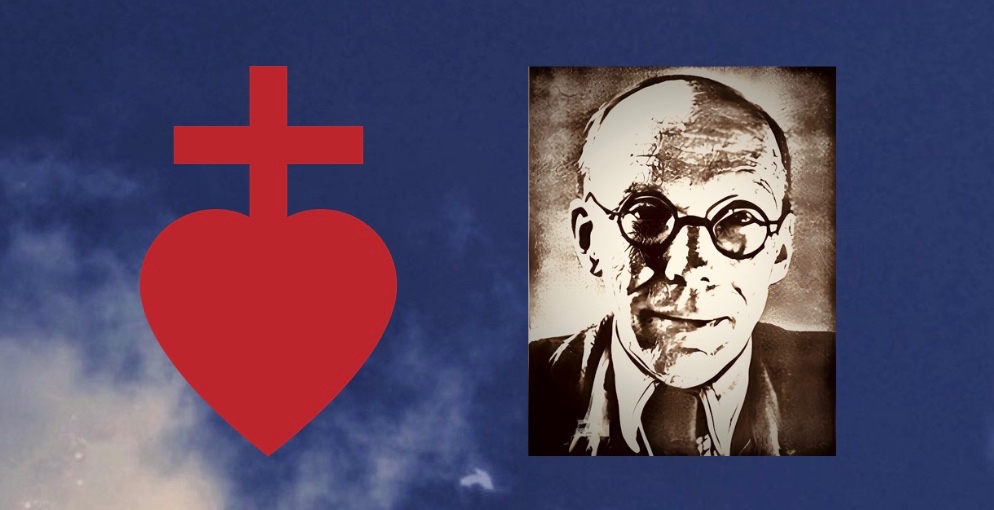 2023 Update:
Here is the first of a never-completed nine part series of musings on Valentin Tomberg, Catholicism, Rudolf Steiner and the world tragedy, written many years ago in 2011. In recently re-visiting it, for the first time in years, I have seen fit to rewrite it a little. But for the most part it remains as it was, even if today it seems to me very slightly crude and immature in places.
My more mature thinking on Tomberg is found in my books, key articles like this one and the YouTube videos you will see peppered through the series. Still I think there may be valuable material in this series not found elsewhere and For navigation purposes, we list and link the nine parts here:
And now back to 2011 — Roger Buck
Dear Lector, in opening this series, I spoke a little last time about Valentin Tomberg. Yet our title also invokes the Catholic Tradition and Counter-Revolution. Perhaps at the outset, it is good to say more for all three of these.
Valentin Tomberg was born in St Petersburg in 1900. After his mother was murdered by the Bolsheviks in the 1917 revolution, he fled to Estonia. In his youth, he belonged to the esoteric Christian movement Anthroposophy, founded by Rudolf Steiner. Around 1940 he left—and made very clear his distance from the movement. For example, he requested that his Anthroposophical writings not be republished.
Most of these may now be found reprinted and reading them could well disturb Catholics. For among many other problematic features, Tomberg's pre-Catholic writings contain a critique of "ecclesiastical Christianity" – which follows that of Steiner.
I think it important to bear in mind that Tomberg did separate himself from Steiner's movement, to the point of asking that his efforts not be reprinted.
Now, since his death, most of these are easily found through Amazon and elsewhere. But it should be remembered this reprinting is against the author's express wishes.
Later in life, Tomberg would in fact speak of his former pre-Catholic self as though he were a different person. He indicated that the change he had gone through was so profound that truly he should take a completely different name. Though for civil reasons, he stated that this desired name change was not possible. Here is eloquent testimony to a man having passed through a radical transformation.
It is thus possible that his choice to write his major work Meditations on the Tarot anonymously was not unrelated to his wish for a complete break from the writings of his youth.
What this series will focus on is the work of the Catholic Valentin Tomberg.
For in 1944, but a few short years after his departure from Anthroposophy, Tomberg had not only converted, but begun writing in a Catholic vein profoundly removed from Steiner's weltanschauung.
The break is startling – for Tomberg now not merely affirms 'ecclesiastical Christianity", he not merely affirms Catholicism (which amongst ecclesiastical Christianity, Steiner had particularly critiqued) – he goes much further still.
He goes as a far to defend an extremely traditional Catholicism that even then, would have been seen as 'reactionary'.
We might call this a Counter–Revolutionary Catholicism.
Terms need defining. The designation has become rather elastic over time, meaning a lot may be gathered under this umbrella-term. But I will include not only the Catholicism that said a severe NO – not simply to the revolutionary spirit which emerged so violently in the American and French revolutions of 1776 and 1789 – but also to the revolution that can be seen in the Protestant Reformation beginning with 95 theses of Martin Luther in 1517.
Today's Church no longer speaks with a 'severe NO' to these revolutions. She is conciliatory to the Protestant Reformation and to 'the spirit of 76″, if not so much, still, the spirit of 1789.
This is not the approach taken in Valentin Tomberg's Catholic writings. After his conversion, he writes with a consistently tragic tone regarding the Protestant Reformation, the French Revolution and their consequences.
In Meditations on the Tarot written in the 1960's for example, he does not shy away from using language such as 'Lutheran heresy' – far stronger language than any Pope from that era would use.
And he suggests that in reforming without 'attacking the unity of the Church" St John of the Cross atoned for the sin of Luther. Similarly he opines that St Ignatius Loyola, founder of the Jesuits, atoned for the sin of Calvin (cf. Meditations on the Tarot pgs 387, 396).
Scattered through Meditations on the Tarot, there is much more in a like vein regarding the Reformation. We mean to examine all this. For now, we simply note that in preparing to write his magnum opus, Tomberg drafted some preparatory notes. These have recently been published in a slim volume called The Wandering Fool. And there in these notes, one finds a single potent sentence that speaks volumes:
The impoverishment of humanity caused by Protestantism: without the Mother the Word is not ensouled, and consequently humanity is deprived of the effect of the Universal Remedy. [Emphasis in original, pg 90].

Valentin Tomberg, The Wandering Fool, p.90.
As to the French Revolution, the Catholic Tomberg never writes of this in terms that are less than dark and tragic. And in his first Catholic legal works, he appears to identify the spirit of the American Revolution with that of the French.
By contrast, although Rudolf Steiner spoke with a certain nuance about the Reformation and French revolution – for him, they were very far from being unambiguously dreadful.
His German spirit affirmed that initial Teutonic break from Catholicism. In general terms, one would not go too far wrong in speaking of Anthroposophy as 'esoteric Protestantism'.
This last designation perhaps moves too far in the direction of caricature. Still, it is suggestive of much: the Reformation had declared 'sola scriptura" – the Bible alone. Christianity did not need to be mediated through a hierarchy (with the Pope at the apex), through the teaching authority of the Magisterium, through tradition, through community.
Community across the world and across the ages could now be disregarded for one's own individual 'take'. Individual effort to interpret the scriptures could replace the Catholic structures—which were frequently seen as tyrannical.
Yet Steiner went further in this individualistic Christian trajectory. According to Steiner, not only did one not need "tyrannical" Romanism – one did not even necessarily need to rely on the Gospels.
Steiner spent his life arguing for an epistemology that the could behold the Mystery of Christ directly – without any intermediary whatsoever. He was critical of ecclesiastical Christianity in general, Catholicism especially and most particularly Jesuitism.

However, the Jesuits were the spearhead for the very kind of Counter-Revolutionary Catholicism, which the later Catholic Tomberg would now affirm in striking and significant ways.
And it might be observed that it was the Jesuits who did most of all in the Catholic Church to build an alternative route to the Protestant trajectory.
One is tempted to say a Counter-Revolutionary 'Road Less Travelled". This is to speak of an alternative to that post-1517 road which – once more – Valentin Tomberg believed to be that of: 'the impoverishment of humanity caused by Protestantism … deprived of the effect of the Universal Remedy."
To be continued—though other writings may appear at this website beforehand – including a review of a book by Charles A. Coulombe, which is all to do with Counter-Revolutionary Catholicism. (Now added – here – and relevant to this series on Tomberg).
Foreword for Monarchy by Roger Buck
Buying Books at Amazon Through These Links Gives Us a Commission. This Supports Our Apostolate. Thank You if You Can Help Like This!