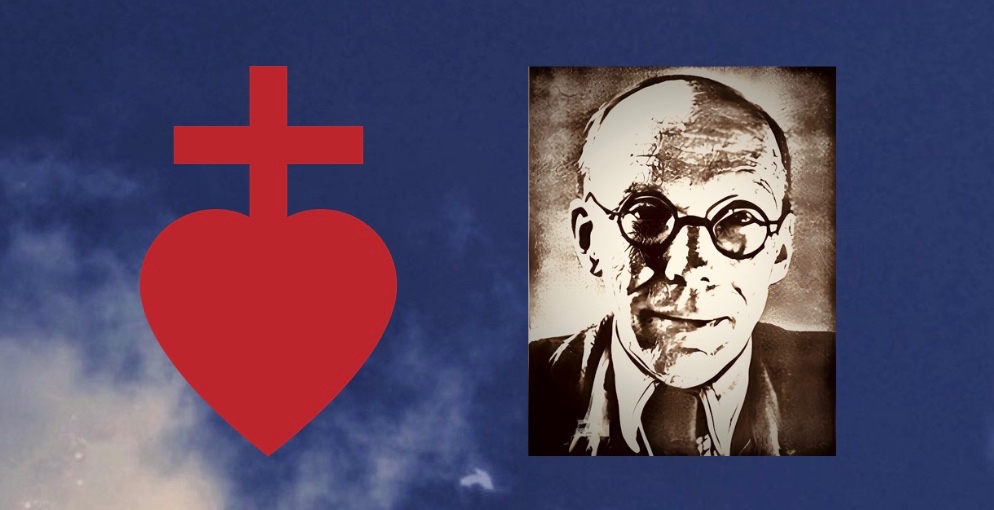 2023 Update:
Here is the first of a never-completed nine part series of musings on Valentin Tomberg, Catholicism, Rudolf Steiner and the world tragedy, written many years ago in 2011. In recently re-visiting it, for the first time in years, I have seen fit to rewrite it a little. But for the most part it remains as it was, even if today it seems to me very slightly crude and immature in places.
My more mature thinking on Tomberg is found in my books, key articles like this one and the YouTube videos you will see peppered through the series. Still I think there may be valuable material in this series not found elsewhere and For navigation purposes, we list and link the nine parts here:
And now back to 2011 — Roger Buck
This website has numerous sources of inspiration. Chief among these of course, is the Sacramental Encounter with Christ, which has afforded untold inspiration to my wife Kim and myself since the joy and miracle of our conversion.
But within that untold immensity, there is more, of course.
There are the life-changing experiences of Catholic France – and Paray-le-Monial most of all – from the years 2006-2008.
And there are of course, the influences of countless Catholic saints and writers. Those of St. Margaret Mary Alacoque, St Claude de la Columbiere, St. John Paul II, Benedict XVI, Hilaire Belloc, Charles A. Coulombe are a few that spring to mind …
And among these is Valentin Tomberg.
Who is Valentin Tomberg?
Now of course, a non-superficial answer to this question is to address imponderable mystery (as, of course, remains true for any man or woman).
But for the purposes of this website, it is best to say certain things unsaid before—in the context of a new multi-part series at this weblog.
Valentin Tomberg is the anonymous uthor of Meditations on the Tarot.
Valentin Tomberg before his death in 1973, was a Catholic convert who on some points, remained definitely less than orthodox.
Indeed he is likely to be seen as a heretic by some – and not without reason. This needs to be frankly admitted from the outset.
Despite this, Valentin Tomberg was, if not a Catholic Traditionalist (at least as that is often defined), then at very least, a defender of the Catholic Tradition of an extremely high order.
We have then a paradox. On the one hand, I could not blame any sincere Catholic for being suspicious of Tomberg. The reasons for this will become clearer, as this series proceeds.
Let us say for the moment, that even after his conversion to the Catholic Faith in the mid-1940's, Valentin Tomberg wrote as though reincarnation possessed a certain reality—if not the entire fullness of truth. And this is not the only problem his writings pose for orthodoxy.
'On the one hand', I wrote. Can there even be 'another hand' – the scandalised faithful may ask?!
One purpose of this series will be to affirm that most definitely there is. Yet this website also aspires to represent Catholic Tradition. There will be nothing here to defend a doctrine of re-incarnation or any other teaching contrary to the Catholic Faith.
Indeed, my sincere belief is that modern efforts to militate against orthodoxy are causing far greater world suffering, than any of us can readily realise. And I pray dear Lector that you will find nothing like this at this site. I pray to be a faithful son of the Church, as Tomberg repeatedly encouraged his readers to be.
Alas, many of his readers miss these repeated encouragements. Interested as they are in his Hermeticism (a topic we mean to explore) they also miss his regular repeated criticisms of Hermeticism, such as this one combining both that criticism with his call to be faithful and obedient.
"Hermeticism is a badly-coined alloy of false religiosity with a false scientific spirit. …

Is the above-mentioned criticism valid?—Yes it is. It is well-founded, because … the Church is based on the three sacred vows —obedience, poverty and chastity—whilst we Hermeticists behave as pontiffs, without the sacraments and the discipline that this entails . . .

We do not want to obey . . . religious . . . discipline. At the same time, it is obedience or discipline which underlies the moral greatness of the Church.

Anonymous, Meditations on the Tarot, p. 190
Yes, many readers of Tomberg either miss such repeated admonitions—or else they try to re-interpret his call to the Church as some abstract entity.
Careful reading of Tomberg though indicates that by Church Tomberg meant above all the Catholic Church (though he also highly honoured the orthodox churches of the East).
This is evident from not only a consistently severe critique of Protestantism (whose roots are described as sin and heresy) but also unambiguous statements such as this:
The Catholic Church, being catholic or universal, cannot consider itself as a particular church among other particular churches, nor consider its dogmas as religious opinions among other religious opinions or confessions

Anonymous, Meditations on the Tarot, p. 89
Yes, Tomberg's honouring of the Eastern churches should not deceives us into thinking he is calling for a wooly, universal church that embraces all confessions or none. For he is unusually severe towards Protestantism and even the Eastern churches are criticised for failing to honour Roman hierarchy.
Yes, careful, unprejudiced reading of Meditations on the Tarot will reveal an author who was absolutely sincere in this call:
May the Holy Scriptures be holy for us; may the sacraments be sacraments for us; may the hierarchy of spiritual authority be the hierarchy of authority for us.

Anonymous, Meditations on the Tarot, p. 410
And so, despite apparent strange anomalies, Tomberg nonetheless remains a defender of the Catholic Tradition of a very high order.
I will just say at this point, that I am hardly the only one to hold this apparently bizarre position. In fact, I would appear to be in distinguished company. There is one report for example, that as cardinal, Joseph Ratzinger authorised the Russian publication of Meditations on the Tarot.
We mean to address all this later in this series and also to ponder why Joseph Cardinal Ratzinger might favour a book called Meditations on the Tarot, a book which speaks about reincarnation as real, if not necessarily fully true. (It might be also noted that in Meditations on the Tarot, Valentin Tomberg firmly defends the Church as right in not promoting a doctrine of reincarnation.)

And in terms of why we maintain that Meditations on the Tarot constitutes a profoundly important defense of the Catholic Faith, we will also consider the New Age movement. This constitutes a far greater danger to Christianity than is generally realised.
The notion will be advanced here that Valentin Tomberg was very conscious of this danger indeed and that Meditations on the Tarot forms a powerful counterweight and warning against much that prevails within the New Age milieu.
In this first part, I would like to say the following about this series. The series is being written under more pressure than I would like. I am therefore giving myself permission to be rather sloppier and less ordered than I would like. Later I hope to collect, polish and organise these thoughts in a major article for the site.
The series will be many parts and also not necessarily appear consecutively – though I feel more dedicated to this series than any attempted here so far.
I will be pouring my lifeblood into this …
Foreword for Monarchy by Roger Buck
Buying Books at Amazon Through These Links Gives Us a Commission. This Supports Our Apostolate. Thank You if You Can Help Like This!