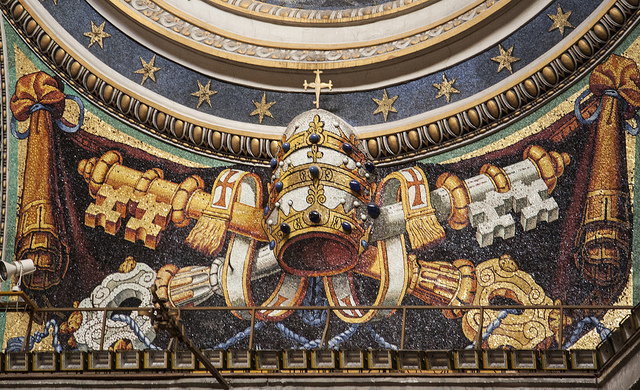 We are profoundly concerned at this site with the Tridentine Catholic epoch (from the Council of Trent to Vatican II)—precisely because we are concerned with modernity and modernity is the era, after the Middle Ages, that the West started to fall ever more into materialism.
In this era, the Catholic Church actively charted a different course from the trajectory of the Protestant and secular currents leading to ever greater materialistic decadence.
In this, it was informed by great Saints such as St. Ignatius of Loyola, St. Margaret Mary Alacoque, St. Catherine Labouré, St. Pius X, St. Pio—as well as by the great Apparitions of the Sacred Heart in Paray-le-Monial and Our Lady in places like the Rue du Bac (Paris), La Salette, Lourdes and Knock.
As we, Kim and Roger Buck, tell at this site. our spirituality has been deeply formed in these sacred sites in France and Ireland and we trust the deep insight of the pre-Vatican II Tridentine era must be restored to awareness.
Hence, in this Archive of Tridentine Catholicism we hope to present writings mainly from the past and out-of-copyright which can illumine this often mocked and misunderstood era. There is an initial selection below

Tridentine Catholicism Timeline
St Margaret Mary and the Origins of the Cult of the Sacred Heart
The Apparitions of Our Lady of Laus
St. Catherine Labouré and Our Lady of the Miraculous Medal
The Story of Mélanie Calvat and Our Lady of La Salette – in 4 Parts (So Far):
The Story of St. Bernadette and Lourdes – in 10 Parts:
The Story of Our Lady of Pontmain- in 10 Parts:
The Story of Pellevoisin and Our Lady of the Sacred Heart – in 5 Parts:
The Great Nineteenth (by Gary Potter)
Dom Prosper Guéranger and the Catholic Counter Revolution (by Gary Potter)
Valentin Tomberg on the Sacred Heart
Devotion to the Sacred Heart in Catholic Ireland

Buying Books at Amazon Through These Links Gives Us a Commission. This Supports Our Apostolate. Thank You if You Can Help Us Like This!