Introductory Remarks:
From the late nineteenth century, I have found this biography and tribute to St. Claude La Columbiere by a British priest, Joseph A. Keller. It can be found in his book The Sacred Heart. At the time, St. Claude had not yet been canonised. I have taken the small liberty of altering Keller's text accordingly.
I should like to add that it was by the relics of St. Claude La Columbiere in the Holy City of Paray-le-Monial, France, that I have found some of the deepest and most meaningful times of prayer in the entirety of my life. Here has been a source of great inspiration for this website dedicated to the Sacred Heart.
Pray for us, St. Claude de la Columbiere! – RB
From Rev. Joseph A. Keller:
If it was the privilege of the daughters of the Visitation Order to make the devotion to the Sacred Heart known, and to be the faithful messengers of this errand of love, it was reserved in a more special manner to the Fathers of the Society of Jesus to promulgate its utility and cultus; and to them the promise was made that their Apostolic labours should bear fruit beyond expectation, and that this Devotion should be to them Salvation and perfection.
St. Claude La Colombiere was born at St. Symphorien d Ozan, on the Feast of the Purification, 1641. His name must for ever be coupled with that of St. Margaret Mary and Devotion to the Sacred Heart, for it was this holy Jesuit whom our Lord had singled out to be the director and support of the humble nun who had never before been truly understood.
He was the faithful servant and true friend to whom she had been bidden to go in one of those mysterious communications in the early days of her religious life.
St. Claude de la Colombiere was in his eighteenth year when he passed from the Jesuit College at Lyons to the novitiate of the Society; and after his ordination, at the end of his third year of probation at Lyons, he was sent to be Superior at Paray-le-Monial.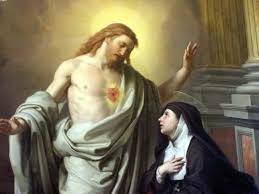 It was at this time that he gave his first spiritual conference to the daughters of St. Francis de Sales; and as St. Margaret Mary Alacoque listened to his words, an interior voice told her that here was indeed the favoured soul who was to share her favours and her trials.
This happened in the year 1674, and in the Lent of the following year he became spiritually acquainted with the state of her soul, as she said herself
Though with much reluctance, I laid bare my whole heart to him, and showed to him the whole state of my soul, both the good and the bad.
St. Claude La Colombiere was not slow to recognise the light and power of God in the revelations and visions confided to him, and though he acted with great prudence, after much prayer he pronounced his belief that they were the work of God.
After this decision, he gave himself entirely to the task of spreading this Devotion to the Sacred Heart, and he began by consecrating him self to Its service on June 21, 1676.
On that day he received such an increase of grace and love of God that he felt more than ever assured of the truth of the revelations and the efficacy of this Devotion.
In a letter he wrote about this time to his sister, who was a nun of the Visitation Order, he says :
I entreat you to receive Holy Communion on the Friday after the Octave of Corpus Christi, in order to make atonement for the insults offered to our Lord. This custom has been recommended by a person of wonderful holiness, who declares that the greatest blessings shall come to those who give this token of love to our Lord. Try to win over your friends to the practice of a like devotion.
For a whole year after this he remained at Paray, the constant guide and counsellor of St. Margaret Mary, their souls knit together by the bond of that one earnest desire to promote the interests of Jesus Christ, as manifested in this Devotion.
He was, as it were, passing through this school of the Sacred Heart, and learning the lessons of his future Apostolate through the agency of his lowly penitent; but when that period had expired, he went forth to preach what he had learned therein.

St. Claude La Colombiere brings the Sacred Heart Devotion to England
Fresh from this super natural atmosphere, he was sent to face the Royal Court of the Queen of England, Mary of Modena, wife of James II. As her Chaplain, he had to preach, although secretly, before the Court, and even in many other parts of London, which was at this time steeped in heresy, and teeming with those who were endeavouring to blot out the very name of Catholic from the hearts and memories of men.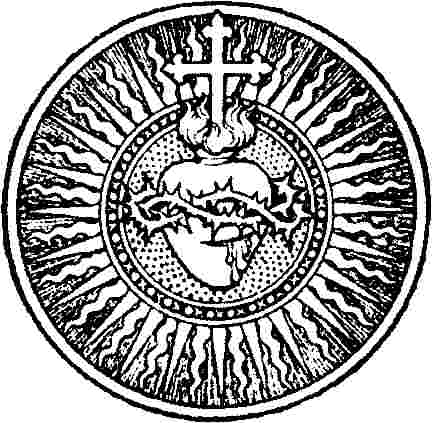 Straight from the fire of the Sacred Heart, he had to confront the coldness of a people clamorous for the extinction of every thing holy; yet such was the success of his ministry during the four years he lived in our capital, that it was from St. James's Palace that the first petition was sent to the Holy See for the establishment of the Feast of the Sacred Heart.
It was in the Royal Chapel of this Palace that St. Claude La Colombiere so often said the prayer which he had composed for himself and for England ; and could we breathe a more appropriate one for ourselves and the present interests of the Church than the following :
O my God, Thou must give us a new heart a heart like Thine. Thou must give us Thine own Heart. Come, O loving Heart of Jesus, and place Thyself in my breast ; come and kindle there a love great enough, if it be possible, to fulfil the duty I have of loving Thee.
He had the happiness of seeing this prayer answered in numerous cases; for through his labours many were reconciled to the Faith, many left their life of worldliness for the religious state, and even those whose duty it was to remain amidst the dangers of the Court were influenced by him to be less frivolous, and more earnest in seeking their eternal salvation.
England undoubtedly owes much to this exiled Jesuit, and we cannot help noticing as somewhat remarkable that he was born on Feoruary 2, the day on which the Roman Martyrology commemorates the Feast cf St. Lawrence, one of those forty Benedictine monks whom St. Augustine brought over to this land of ours, and whom he consecrated first Archbishop of Canterbury.
Did he not receive with his name the glorious mission of preaching the Gospel on foreign soil? We cannot tell what may have been the Saint's baptismal gift to this venerable servant of God, but we think this incident will increase the interest of all English-speaking Catholics in furthering the cause of his beatification, even if the Holy Father had not expressed his desire to see him publicly honoured on our altars.
It is two years since Leo XIII styled him:
My friend since my childhood. He said, I have always loved him because of what I read about him, and on account of his relation with the Sacred Heart and Blessed Margaret Mary. Oh yes, I much desire his beatification.
His banishment from England, his sufferings and arrest, are matters of history, and have been so recently described in various magazines that we will not enlarge upon them here.

On his return to Lyons he passed by Paray-le-Monial, and had a brief interview with Blessed Margaret Mary, concerning which he tells one of her Superiors that he was much consoled by this visit; and it was not to be wondered at that this heavenly intercourse was as oil poured out on his soul after the guarded and narrow limits of the English Court.
Leaving Paray, he lived for two and a half years at Lyons, during twelve months of which he was spiritual director of the students of the Society of Jesus. Among those whom he trained and filled with devotion to the Sacred Heart were the Pere de Galliffet and Pere Croiset.
The first named has been honoured with the title of Apostle of the Devotion to the Sacred Heart, and to him we owe the publication of the memoir of St. Margaret Mary, written by herself. It was he also who, notwithstanding the first rebuff from Rome, persevered until he obtained the sanction of the Holy See for the establishment of the Feast.
Pere Croiset was privileged to have an interview with Blessed Margaret Mary, and she foretold of him that the devotion would be every where made known through means of a book of Pere Croiset, a Jesuit. How this prophecy was in part fulfilled, even in her own lifetime, we think will interest our readers to learn, and therefore we give the account in the holy nun's own words. Writing to a friend, she says :
I must tell you something which is for the glory of the Divine Heart, and will cause you to bless It.

I had given one of the Dijon books to a lady from Lyons, who in return gave it to a young Father to read.

Having shown it to his pupils at Lyons, they took such a fancy to it that they made a great many copies, both of the litanies and of the prayers, which they recited very devoutly. And these children having shown them to others, these also got such a great devotion to them. As they were not able to make copies enough, they determined to have one of these books printed, offering to bear the expense.

One young workman was so anxious to take upon himself the expense, that they had to yield to his devotion. And when he went himself to one of the chief booksellers of Lyons, he too felt himself so moved with love of this Divine Heart that he offered out of devotion to publish it without making any charge, which caused a holy combat between the youth and himself. But he, having at length gained his point, got the book of the Sacred Heart, and went to one of his friends to have it written more fully, and a holy religious undertook this.

So it is newly printed, and very beautiful, and well bound, and the sale has been so great that a new edition has been brought out since June 19, and now, on August 21, there are no longer any copies left, and it is therefore going to be reprinted for the third time.
In 1681 St. Claude La Colombiere was sent from Lyons to Paray, as if to die under the shadow of the sanctuary which he loved so well, for he only survived the change six months, dying on February 15, 1682.
During those brief months he never flagged in teaching his penitents the Devotion of the Holy Hour, of receiving Holy Communion on the first Friday of each month, and of setting apart the Friday after the Octave of Corpus Christi as a special feast in honour of the Sacred Heart.
We cannot do better in concluding this sketch than by quoting a passage from a pastoral letter written by a Vicar Apostolic in India to his people, and which beautifully describes the spirit of unselfishness which inflamed the soul of St. Claude La Colombiere a spirit which is the very essence of Christianity itself, and which must take possession of all souls who wish to share in the life and work of the Sacred Heart.
"A true Catholic", he says:
is not the man who shuts himself up in his own soul, and is satisfied that he is secure, without troubling himself about the good of his neighbour. No, for the very name of Catholic teaches him that his heart ought to embrace the interests of Jesus Christ in the whole world, and to labour, by prayer at least, if he can do no more, to promote everywhere, and in every soul, the glory of God and the accomplishment of His holy will.
Note: For easier assimilation from a screen, small formatting changes including paragraph breaks have been introduced into the text.
My Two-Part EWTN Interview
Foreword for Monarchy by Roger Buck
Buying Books at Amazon Through These Links Gives Us a Commission. This Supports Our Apostolate. Thank You if You Can Help Us Like This!