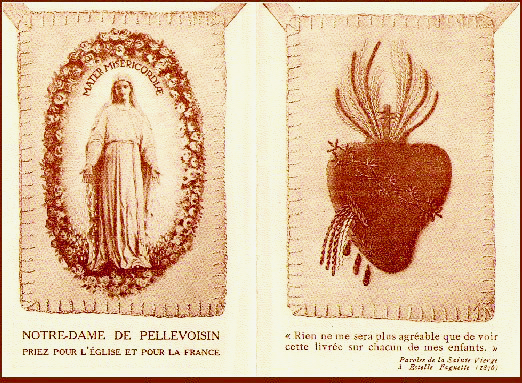 CJS.Org Introductory Remarks:
In Nineteenth Century France, four great Apparitions of Our Lady occurred – in 1830 at the Rue du Bac in Paris, in 1846 at La Salette, in 1858 at Lourdes and in 1871 at Pontmain.
All four of these have received full approval from the Catholic Church as worthy of belief.
However, also in Nineteenth Century France, another lesser-known Marian Apparition was said to occur after these.
This time, the reports came in 1875 from Pellevoisin in the Bourges, when Our Lady was said to request that a Scapular of the Sacred Heart be worn.
Now, we said that the first four Apparitions above have received full approval. This is clearly not the case with the reported Apparitions in Pellevoisin.
Perhaps it might be better to say, that it is not yet the case.
For it should be noted that full approval of Marian Apparitions sometimes takes centuries. For example, the Apparitions of Our Lady of Laus (also in France) from 1664-1718 only received full approval in 2008!
Could it be that the same decision will eventually made in regards to the events at Pellevoisin?
We cannot and should not anticipate the decision of the Church.
However, let it be noted that Pellevoisin stands out amongst many hundreds of lesser-known, unapproved Marian Apparitions.

For while no final, full and complete approval has been given regarding the events at Pellevoisin either by the local bishop or by the Holy See, there exist numerous acts of secondary level of approval, including recognition of the Scapular of the Sacred Heart reported from Pellevoisin.
For example, Pope Leo XIII, by a Motu Proprio, granted indulgences to encourage pilgrimage to Pellevoisin on 20 December 1892, and on 4 April 1900, The Congregation of Rites issued a decree granting approval to the Scapular of the Sacred Heart.
Thus from the highest levels of the Vatican, it would seem that some kind of positive, if not complete, assessment of the reported Apparitions of Pellevoisin has occurred.
Thus it may well be that in future decades or indeed centuries, the reported Apparitions of Our Lady of the Sacred Heart at Pellevoisin will receive the fullness of confirmation.
When and if that happens, Our Lady of Pellevoisin will then clearly stand besides the likes of Our Lady of Pontmain or Our Lady of Lourdes as belonging to the Great Apparitions by which Our Lady has tried to reach out to humanity.
In the meantime, we would like to say that – for what little it is worth – we are very, very moved indeed by the story of Our Lady of the Sacred Heart at Pellevoisin.
And we cannot help but draw links between the events at Pellevoisin and the great approved Apparitions in Nineteenth Century France.
Now, a certain deceased author Bernard St John clearly saw very profound links between these four great approved Apparitions and the events of Pellevoisin.
This he makes clear in his 1904 book: The Blessed Virgin in the Nineteenth Century: Apparitions, Revelations, Graces.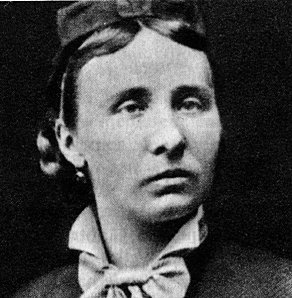 And as it happens, Bernard St John also personally knew the voyante of Pellevoisin: Estelle Faguette.
For as St John explains in his book, he lived for awhile in Pellevoisin and was able to interview Estelle Faguette.
(For a little more regarding the sources of Bernard St John's account, see our afterword below.)
Thus, we feel fortunate to be able to re-present this serialised account of the reported Apparitions of Our Lady of Pellevoisin by Bernard St John.
Five parts of this serial have so far appeared, covering the most important events. You can easily navigate through these by clicking on this table of contents:
Finally, we will also note that the reader can find further accounts from Bernard St John at this site regarding the 1830 Apparition of the Miraculous Medal (here), as well as serialised accounts concerning Our Lady of La Salette in 1846 (starting here), Our Lady of Lourdes in 1858 (starting here) and Our Lady of Pontmain in 1871 (starting here) – RB.

From Bernard St John:
Pellevoisin, a small burgh in the department of the Indre, looks down from a gentle acclivity upon a magnificent sweep of country round. Its parish church of purest Gothic, dedicated to St. Martin, possesses an apse of exquisite beauty dating from the twelfth century.
But it is not to this building of perfect proportions that the feet of pilgrims turn on entering Pellevoisin. These seek at once a miniature chapel with a statue of the Blessed Virgin wreathed with roses and lying at a stone's throw from the parish church.
Shutting our eyes to the present, we will endeavour to see this spot as it was in the spring of 1876.
Then it was a bedroom in which a woman lay to all appearance dying. The woman was Estelle Faguette.
She was at that time thirty-two years of age. She had been for twelve years a servant in the family of the Comte Arthur de la Rochefoucauld, and had proved indefatigable in her duties, until a serious illness in the preceding spring had laid her low.
Her master and mistress, before leaving their country seat, the Chateau of Poiriers, for Paris, in January, 1876, had placed her under good attendance in a house of theirs at Pellevoisin. They had left her, as they thought, to die.
Apart from an internal tumour, from which she had been suffering for twelve years, Estelle Faguette was, at the time of which we write, in the last stage of pulmonary consumption. Her condition was, moreover, complicated by acute peritonitis.
A Paris medical man, Dr. Bucquois, of the Rue de l'Université, had told her mistress some months before that her case was hopeless, and that she was slowly dying of consumption.
In the previous December she had been given over by Dr. Benard, of Bazançais, who had been in the habit of attending her at intervals for years. She had then received the last Sacraments.
We are on the 10th of the following February.
On the evening of that day, her ordinary medical man of Bazançais, refusing to go and see her on the ground that he could do her no good, and, when remonstrated with, saying though not un kindly that he had something else to do than to go on journeys with the sole object of consoling patients, Dr. Hubert, of the same town, was summoned to Pellevoisin in his stead.
This practitioner, on seeing Estelle for the first time, expressed surprise that he should have been summoned from a distance for a person who was evidently beyond the reach of his skill.
Having examined her, he pronounced her lungs to be cavernous, and said, moreover, that it was useless to torture her further with medicine as she had but a few hours to live.
He consented, nevertheless, to write out a prescription. On handing this to the nun in attendance, no other than Sister Marie-Theodosie, Superior of the religious community of Sainte-Anne de la Providence de Saumur, located at Pellevoisin, he said: "There are doses here for five hours; but after the next two or three hours there will be no further need of any."

Instead of dying that night as predicted, Estelle Faguette was to linger apparently between life and death for nine days longer, and then be the object of a cure as distinctly inexplicable, according to the known laws of nature, as is any one of the miraculous cures on record.
Moreover, this cure was to be preceded and followed by circumstances which give it a place of mark among the most noteworthy phenomena of the kind.
Estelle had heard the doctor say that she had but two or three hours to live. She was perfectly resigned to die.
It may not be out of place here to glance at the past, as well as at the inner life, of this woman about to become the object of a direct intervention on the part of Providence.
Simplicity of character, a strong sense of filial duty and steadfast piety had distinguished Estelle Faguette from her youth upwards.
Her parents, who were very poor, had early migrated from Champagne to Paris; and we see Estelle, though still a child, at once taking part in the arduous task of bread-winning in the capital.
By coming under the influence of the Sisters of Charity of St. Vincent of Paul, of the parish of St. Thomas d'Aquin, her natural piety became fostered, and she soon joined the Association of Children of Mary.
A little later on, she showed signs of having a religious vocation. On her seventeenth birthday, with her parent's consent, hardly wrung, with an outfit, the gift of Abbé Le Rebours, then of the church of St. Thomas d' Aquin and afterwards Curé of the Madeleine, she entered the noviciate of the Augustinian nuns of the Paris Hôtel-Dieu.
There for three years she zealously served her apprenticeship to the religious life.
At the end of that time, her health breaking down, and the fact of her sustaining a serious injury to her leg, put an obstacle in the way of her religious profession.
She left the Hôtel-Dieu walking with crutches. Shortly afterwards, owing to the good offices of the Sisters of St. Vincent of Paul, whom she knew so well, she entered the service of the Comte and Comtesse Arthur de la Rochefoucauld, but still walking with crutches.
Her leg got well in time, but her ill-health remained, taking the form of chronic peritonitis, which laid her low at intervals.
Between whiles, she was able to perform, in an excellent manner, the duties of a servant, her ordinary work being that of a lady's maid. She was at that time a fair, comely young woman, with expressive blue eyes and a pleasant mouth.
Possessed of good common sense and being practical in character, there was nothing of the visionary about her, and the little reading shewas able to indulge in was certainly not of the mystical kind.
Her earnings went to support her aged parents, who had ended by becoming entirely dependent upon her.
When, in the summer of 1875, mortal illness had laid its grip upon her, her keenest anguish had been on her parents account.
Something of what she had felt on this subject had been committed by her to writing, the following autumn, at the Chateau of Poiriers near Pellevoisin, whither she had gone with the Comte and Comtesse de la Rochefoucauld.
What she then wrote was in the form of a letter. Being unable to walk, she could not, as she wished to do, place the little missive beneath a stone at the foot of a statue of Our Lady of Lourdes in a miniature Lourdes Grotto which had lately been erected in the chateau grounds; but another person placed it there for her.
We will glance at what Estelle thus wrote in her hours of anguish. It is worthwhile mentioning that before this, novena after novena had been made by the same petitioner to her whom the Church calls the Help of Christians and the Consolation of the afflicted.
In the little document in question we read:
You know that I am your child and that I love you; therefore, obtain for me, I beseech you, from your Divine Son, my restoration to health. It is for His glory that I ask it.

Behold, my parents' sorrow! O Mary, you know that I am their all.

If, because of my sins, I cannot be completely cured, you can at least obtain for me a little strength of body, so that I may be able to earn my living and provide for the wants of my father and mother, who, as you see, are on the eve of being obliged to beg their bread.

The thought of this causes me intense suffering.

Think, good Mother, of what you endured the night of our Saviour's birth, when you went from door to door asking to be taken in.

Think, too, of what you suffered when Jesus was stretched on the cross.

I put my trust in you, my Mother; I know that if you wish it, your Son will cure me.

He knows how much I wished to be of the number of His spouses.

Deign to listen to my supplications and to intercede for me with your Divine Son. May He restore me to health, if such be His good pleasure. If not, may His holy will be done.

May He at least grant me perfect resignation, and may that resignation contribute to my salvation and to that of my parents.

My heart is yours, holy Virgin; keep it always, and may it be a pledge of my love and of my gratitude for your maternal goodness.
It is in this state of resignation, which had had time to become perfected in the following weeks, that we find Estelle on that night of February, when the doctor said that she had but two or three hours to live.
Three days later, February 13th, she asked the Curé of Pellevoisin to write to her mistress, the Comtesse Arthur de la Rochefoucauld, then in Paris, and to beg that lady to have two tapers lighted for her, one at Notre-Dame des Victoires and the other in the chapel of Our Lady of Lourdes, in the church of the Jesuit Fathers, Rue de Sevres.
The next day the tapers were lighted for her at the two shrines as requested.
Estelle Faguette Encounters Our Lady
The following night occurred the first of the series of Apparitions, which have already given Pellevoisin a place in the religious history of the time. The first five were on five successive nights.
We will recur to them in detail later on. Suffice it for the moment to say that their leading purport was to convey to Estelle Faguette the prediction of the cure of which she was about to be the object.
Each morning Estelle put Abbé Salmon, Curé of Pellevoisin, who was at the same time her spiritual director, in possession of the details of her vision of the preceding night.
On Thursday morning she told him that she would either be dead or restored to health on the following Saturday.
The priest at first believed the sick woman, in thus speaking, to be the victim of an illusion.
He was still further of this opinion the following morning, when she informed him that she had again seen the Blessed Virgin, who had told her that she would be cured on the Saturday.
His reply was: "Yesterday you told me that you were to be dead or cured on Saturday next; today you tell me that you are to be cured; what will you tell me tomorrow?"
Evidently Abbé Salmon was sceptical, and, allowing for all kindness and consideration on his part called forth by the state of the patient, he was to remain so for a little while longer.
In the meantime, so startling were the revelations he listened to, that he thought it advisable, for prudence sake, to confide these to certain persons, including the nuns of Pellevoisin.
Thus, several were in possession of Estelle's statement respecting her predicted cure.
Friday night came. Those around believed the sufferer to be entering on her death agony.
The priest was one of these, and left her, not expecting to find her alive the next morning.
The next morning found her not only alive but presenting in her person the realisation of the predicted cure.
On entering her room at an early hour, the first words Abbé Salmon heard were: "I am cured! (Je suis guérie.)"
As yet, Estelle's words were the only authority for the truth she put forward. She was in bed, and her right arm still lay helpless by her side, paralyzed and swollen to double its natural size, as it had been for some days previously.
The priest remained sceptical as before. He was about to say Mass at the parish church close by, and had promised to return at half-past seven to administer Holy Communion to Estelle.
Before leaving, he said to her: "The Blessed Virgin can obtain your cure if she will. As soon as you have received the Blessed Sacrament try to make the sign of the cross with your right hand. If you succeed, it will be a sign that what you say is true."
At the specified hour, Abbé Salmon came back, and Estelle communicated in presence of about a dozen persons. The priest then told her to make the sign of the cross with her right hand.
She drew forth the swollen, helpless member, and, to the astonishment of all, made with it the sign of the cross. "I am cured; I feel that I am cured!" she said.
She became at once able to use her arm freely, and it was noticed directly afterwards that it had come back to its normal size.
It was found, too, about the same time, that the tumour in her side from which she had been suffering for the previous twelve years and which had considerably increased of late had disappeared also.
But the radical cure had taken place in the night. At the exact moment when it was being effected, the sick woman had known what was taking place.
All pain had suddenly ceased, the emaciated and disorganized body had received an influx of fresh life; and the lungs which, according to two-fold medical testimony, had little of their substance left, had heard the command to become sound once more.
That day Estelle Faguette rose and dressed her self without help, laughed and talked gaily, and ate solid food with a good appetite. For weeks past she had been able to take nothing but liquid, and that only in spoonsful.
"What struck us most," said Sister Theodosie, "was the change that took place in her appearance, her face, from being as that of a corpse, becoming at once expressive of life and health."
To the extraordinary character of Estelle Faguette's cure, the two doctors of Bazançais who had attended her bore witness. Dr. Benard affirmed that it was of a nature to upset all medical prognostics.
Dr. Hubert went farther, and said that it was not to be explained by natural laws. He who thus spoke was, and is, a pronounced freethinker.
In presence of this physical fact, the sudden cure of Estelle Faguette, when in the last stage of pulmonary consumption, we will pause.
So complete was the cure that Estelle has never had the slightest return of the disease, and is in the possession of sound, healthy lungs at the present day. The fact we are considering, which, according to natural laws, defies explication, was at the same time the accomplishment of a prediction.
The parish priest of Pellevoisin, as we have seen, knew of the prediction as it was reiterated on successive nights between February 14th and February 19th, and certain others knew of it through him, as we have also seen.
On the Saturday morning, February 20th, these different persons saw with their own eyes the accomplishment of the prediction. …
On the question of the possible cure of pulmonary consumption in an advanced stage, [Dr. Boissarie] in his Histoire Medicale de Lourdes says: "If, owing to modern discoveries, science succeeds in being able to ward off or to cure phthisis, the remedy found will be neither infallible nor instantaneous in its action: never will it be able to bring back suddenly to health a consumptive patient in the death-agony."
The suddenness of Estelle Faguette's cure was one of its most striking features.
The sublime message at Pellevoisin commenced with the prediction of the miraculous cure, and culminated in the revelation of the scapular of the Sacred Heart, seven months later. For the moment we have to do with the first five Apparitions, those of the month of February.
On five successive nights, Estelle Faguette, according to her account, gazed upon a figure of surpassing loveliness, surrounded by a halo of soft light.
The figure appeared first at the foot of her bed. She could only see it to a little below the waist. As she describes it, it was clad in a white flowing garment, with white girdle and white veil. The face was of indescribable beauty.
The garment, as adequately as human words can pourtray it, resembled fine white flannel.
The veil, which was of a more silvery whiteness, slightly shaded the forehead of the Apparition and fell in folds over the back.
As the sufferer gazed, she listened to words of consoling sweetness, which were at the same time of celestial import. Only a few of these can be given here. Among the most striking were:
"Have courage and patience."
"You will have to suffer five days longer in honour of my Son's Five Wounds."
"On Saturday you will be either dead or restored to health."
"If my Son grants you life, I wish you to proclaim my glory."
When the sufferer was favoured with a similar vision the next night, she was told that she would be restored to health the following Saturday.
Then, among other words which she listened to, were: "In being restored to life, do not think you will be exempt from suffering. No; you will have to suffer. It is in that that the merit of life consists."
Then she listened to words that she was not to divulge …
To be Continued:
Pellevoisin and Our Lady of the Sacred Heart – Part II: 'I am All Merciful'
Afterword:
We mentioned above that the author himself had known Estelle Faguette and lived at Pellevoisin. Here is how Bernard St John credits his sources:
We will now look at the events in 1876, known as the Apparitions of Pellevoisin. In treating of the facts of this portion of our narrative, we will draw considerably from a little manual entitled Notre-Dame de Pellevoisin, compiled by Abbé Salmon, Curé of Pellevoisin, and published in 1877 with the consent of the Ordinary of Bourges.

It has received the approbation of successive Archbishops of Bourges. In his letter of approbation, dated August 30th, 1895, Monseigneur Boyer, Archbishop of Bourges, says: "This notice is destined to make more and more known the grounds on which devotion to Notre-Dame de Pellevoisin is based."

Monseigneur Servonnet, the present occupant of the See of Bourges, says October 14th, 1897: "We approve and recommend the present Opuscule in the same terms and for the same reasons as our eminent predecessor, Cardinal Boyer.
All quotations given here from Estelle's written account of the Apparitions will be taken from this little book, although it may be mentioned that the present writer has lived at Pellevoisin and been in close intercourse with the voyante, with the express object of gaining from its primitive source information concerning the subject."
To Navigate Through This Series:
Foreword for Monarchy by Roger Buck
Buying Books at Amazon Through These Links Gives Us a Commission. This Supports Our Apostolate. Thank You if You Can Help Us Like This!