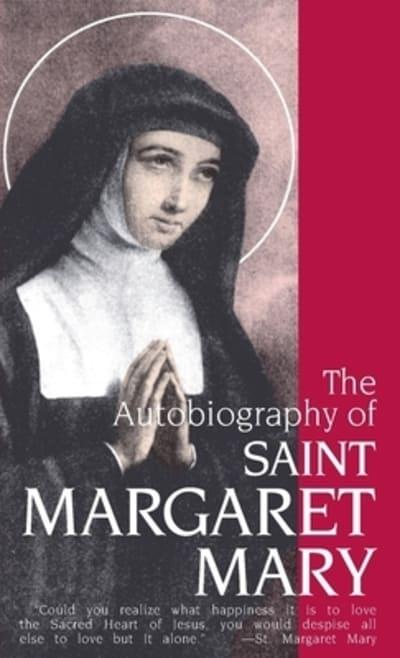 What we have to do with here is a small volume of autobiography by the Seventeenth Century French saint, who beheld the Sacred Heart and brought its Public Devotion to the entire Catholic world.
This short book was written in the saint's own hand in the form of a narrative, with no distinctive breaks or chapters.
From the outset, the careful reader is brought directly into intimate rapport with the author, as immediately we receive an image of the psychological and spiritual struggles of the saint.
For the book is introduced with a statement from St. Margaret Mary Alacoque, claiming that she has written it as an act of obedience. She writes:
It is for the love of Thee, O my God, and through obedience, that I submit to write this account, asking Thy pardon for the resistance I have made. Thou alone knowest how great my repugnance thereto is; Thou alone therefore canst give me strength to overcome it, for this obedience was given me by Thee.
That in fact, if it were her own choice, she is confessing she would destroy this chronicle of her life. Yet in this pledge of obedience, one can immediately sense the all encompassing love she has for her Divine Master, Our Lord, as well as the turmoil she experiences in living the depth and reciprocity of that love. She wants as always only to please Our Lord.
The first part of the book details her early years, where, from childhood she experienced herself to be under the protection of the Blessed Virgin Mary.
At a very young age, she made a vow of perpetual chastity, ignorant of the meaning of the words 'vow' or 'chastity'. In her own words, "Without knowing their meaning, I felt continually urged to pronounce the following words:"O my God, I consecrate to Thee my purity, and I make Thee a vow of perpetual chastity."
At age eight, she was sent to a convent for education, where at nine years old, she received her first Communion:
This Communion shed such bitterness over all my little pleasures and amusements that I was no longer able to enjoy any of them … Whenever I wanted to join in the games of my companions, I always felt something which called me and drew me aside into some little corner, leaving me no peace until I had followed it. Our Lord then made me give myself to prayer.
I am struck by how conscientious the young St. Margaret Mary at such a young age. And that at this age, she was already forming the lifestyle of a religious.
Having fallen ill, with no form of cure to be found, she was removed from the convent and sent home. She was then consecrated to the Blessed Virgin Mary, in the attempt to find healing. As soon as the consecration was made, she was healed – the first of many miracles to occur in the saint's lifetime.
The book then moves, to relate the following part of her life, where her father having died, she began to care for her sick mother. The circumstances the pair found themselves in were incredibly difficult, under the authority of unkind relatives.
They kept the mother and child under lock and key, often refusing permission for St. Margaret Mary to attend Mass or pray in front of the Blessed Sacrament. This caused so much pain to the young girl, that she would retreat to a secluded spot, where for hours she would remain kneeling, shedding tears of grief to her Blessed Lord.
This was the beginning of a life of torment and the Saint's words express this with intensity. Her use of language and the recording of such life events leave the reader with a deep sense of the inner life of the saint.
Caring for her ill mother, living with such limited freedom, she found herself in conflict with all those around her, who desired her to marry, rather than to enter the religious life. Even her ailing mother shared these wishes.
Against this incredible pressure, St. Margaret Mary was bestowed the grace of becoming a religious in the order of the Visitation of Holy Mary, at the convent in Paray-le-Monial, France. The order which was founded by St. Francis de Sales. In this section of the book, St. Margaret Mary records her religious life with incredible detail.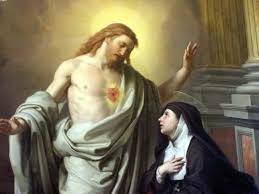 For, it was here, at the convent in Paray-le-Monial, that she found home and solace in her relationship with her betrothed, Our Blessed Lord. It was also here that the life of turmoil continued, for she paid dearly and continuously for the graces and privileges bestowed upon her. Her life was one of incredible deep struggle, one of continual torment and suffering.
The first time I read this autobiography, was many years ago, before my first pilgrimage to Paray-le-Monial. On that reading, I felt such an affinity with this saint that it surprised and even shocked me. This affinity was also experienced when I first prayed by her relics in the Visitation chapel at Paray. As I prayed there, I felt so at home, that I never wanted to leave her side.
Having now been to Paray-le-Monial more than twenty times, praying many times by her side, I am again surprised on reading her autobiography.
Yet, this time, my surprise is very different. It is one of feeling so very lacking in understanding of why St. Margaret Mary's life was filled with so much suffering and torment. I feel inadequate to do justice to the experiences of this poor saint. Yet, I also sense a glimmer of knowing what the extremes of her life were for.
This glimmer illumines a picture of a soul offered perhaps as a victim, not only to purge her own darkness of heart, but also to experience the tormenting pains Our Lord experiences at the expense of human sin.
As I read the words of St. Margaret Mary, I am given a picture of one who meets the intensity of evil in the world with a depth of sensitivity, rare and pure.
Her torments, her sufferings are caused by the fact that she so acutely feels the harm of sin, from within and without. She acutely feels her own sin, the sin of others and the sin of the world.
It is as though she is continuously scourged, with no rest from the assailant. It seems that the more she becomes obedient to the voice of the Sacred Heart of Jesus, the more intensely she feels these things.
And as was so common in her time, the only peace she would often find, would be that relieved by her extreme mortifications and penances.
It is astonishing to read of St. Margaret Mary's relationship with Our Lady, from such a young age. It is even more astonishing to follow the intense relationship throughout her life, from mid-teens on, with Our Lord. A relationship that is fueled by an almost constant dialogue between Himself and the saint.
One passage in particular, illumines the type of relationship they held, one that appears severe. She writes:
One day, on account of some fault which I had committed, my Divine Master gave me the following lesson. "Learn" He said, "that I am a Holy Master and One that teaches holiness, I am pure and cannot endure the slightest stain. Therefore thou must act with simplicity of heart and with an upright and pure intention in My presence. Know that I cannot endure the least want of straightforwardness, and I shall make thee understand that, if the excess of My love has led Me to constitute Myself thy Master, in order to teach and fashion thee after My manner and according to My designs, nevertheless I cannot bear tepid and cowardly souls, and, if I am gentle in bearing with thy weakness, I shall not be less severe and exact in correcting and punishing thy infidelities.
She continues, "He has made me experience this all my life" and concludes with an admission that, "I own that nothing was more painful and terrible to me than to see Him ever so slightly displeased with me. All other sufferings, corrections and mortifications were nothing to me in comparison."
This relationship between Our Lord and St. Margaret Mary is very much based on the importance to Our Lord of the vow of obedience. The importance of this vow becomes a theme throughout the latter part of the book.
We read of how Our Lord repeatedly chastises the poor young religious for disobeying her superiors and as well as for disobeying Himself. It is as though He is attempting to harness the rebellious nature of the saint by means of this vow, in preparation for the revelations to come.
In one case, the saint imagines Our Sovereign Lord will be pleased if she takes upon herself greater mortifications than she has been ordered to. She is severely reprimanded. Our Lord says to her, "Thou deceivest thyself … in thinking to please Me by actions and mortifications chosen by self-will which, rather than yield, prefers to make superiors bend their will to it."
This is akin to a reprimand that on another occasion came from her vision of the Holy founder of the order, St. Francis de Sales himself: "What is this, my daughter, dost thou think to please God in surpassing the limits of obedience, which is the foundation and principle support of this Congregation, and not austerities?"
Whilst it seems that earlier in her relationship with Our Lord, the accent is upon the Saint learning to overcome her rebellious nature, later on a shift occurs. Once she is more firmly harnessed by the Holy vow of obedience, the revelations begin.
This part of the book becomes even more extraordinary. As St. Margaret Mary records these revelations, there seems to be a different quality in the way Our Lord addresses her.
This quality is incredibly passionate, like a fiery furnace of love about to burst its flames outwards. It can no longer be contained within Itself. St. Margaret Mary has powerfully captured this quality.
As one reads her words, one can feel something of that which she experienced. That the fiery furnace of His Most Sacred Heart, brimming with love and mercy and an intense desire for mankind to know Him. wishes to be revealed to humanity.
In the first of these extraordinary revelations, Our Lord says, "My Divine Heart … is so inflamed with love for men, and for thee in particular that, being unable any longer to contain within Itself the flames of Its burning Charity, It must needs spread them abroad by thy means, and manifest Itself to them (mankind)."
Throughout the book, an image of Our Lord develops. An image that appears VERY HUMAN. For the words of St. Margaret Mary record His intense desire to be accompanied at Gethsemene, in His prayer and agony in the garden as well as His desire to be known through His Most Sacred Heart, as the Fount of Love and Mercy He is.
With these words, Our Lord then takes the heart of St. Margaret Mary and places it within His own. He then names her, "the beloved disciple of My Sacred Heart."
Our Lord then outlines the requirements of devotion to His Most Sacred Heart to St. Margaret Mary. With these words, He reveals those aspects of the devotion perhaps most well-known to us:
Thou shalt recieve Me in Holy Communion as often as obedience will permit thee …Thou shalt … communicate on the First Friday of each month. Every night between Thursday and Friday I will make thee share in the mortal sadness which I was pleased to feel in the Garden of Olives … And in order to bear Me company in the humble prayer that I offered to My Father, in the midst of My anguish, thou shalt rise between eleven o'clock and midnight, and remain prostrate with Me for an hour, not only to appease the divine anger by begging mercy for sinners, but also to mitigate in some way the bitterness which I felt at that time on finding Myself abandoned by My apostles.
So here, in this slim account of the saint's life, written in her own hand, we have a direct view into the beginnings of the Devotion to the Most Sacred Heart of Jesus, as He Himself would have Himself known to us.
How to sum up this small, but so very rich volume? The author's words reveal directly not only the record of events and experiences of her life. They also reveal directly the qualities she felt that determined so much of her experience.
I suppose, if I was to find one word that could describe the way in which St. Margaret Mary reveals her life, it would be 'intensity'.
The intensity with which she describes her experiences, give the reader a penetrating depth into the psychological and spiritual nature of the saint.
It is as though one can really experience her life with her. Whether it is her suffering or her thought-life, her conversations with Our Lord or the revelations given her by Him. Each aspect of her life seems so fully revealed as to conceal virtually nothing. The intensity of her experience is directly communicated by means of her words, that the reader can feel that they have truly shared a part of her life with her.
I give thanks that against her own will, by obedience, St. Margaret Mary was able to record this small and invaluable volume, which gives so much. How could we have done without it?
I thank you St. Margaret Mary for all that you have shared with us. Your purity, your humility, your struggles, your depth of torment and suffering. And of course, the fire and passion and love of all that He, the Sacred Heart of Jesus revealed to you.
Such an incredible gift, thank you.

Buying Books at Amazon Through These Links Gives Us a Commission. This Supports Our Apostolate. Thank You if You Can Help Like This!