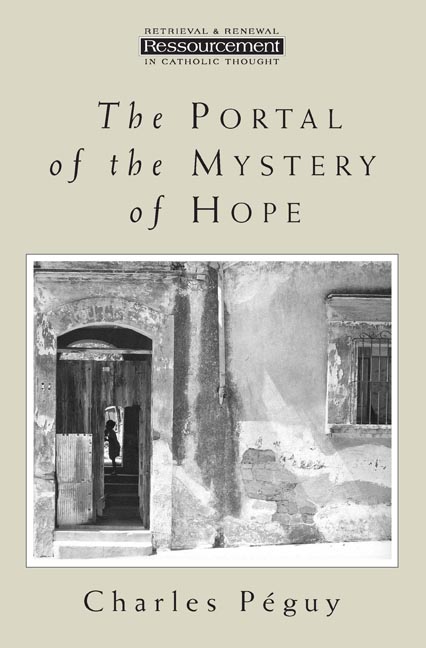 A Prefatory Note. This review is unusual. I wrote it years ago in a context concerning New Age texts and New Age ideology. I also wrote it very spontaneously. For this heartbreakingly beautiful book had HIT me with incredible power …
Rather than rewriting it now and lose the spontaneous quality, I only shorten it, with the most minimal revision— leaving the original, unusual style and many New Age references intact.
Hardly more than 24 hours ago, as I write these words, I started to read The Portal of the Mystery of Hope. Started to read, knowing almost nothing about the book or its author, the French Catholic poet Charles Péguy. Now having finished it, a day later, I am reeling …
What can I say? This is perhaps a book that should not be ´reviewed´ at all, till one has read it ten or even twenty times …
One senses that much, so very much resides within …
The work of years, perhaps to excavate and that one cannot competently comment on, until much more is fathomed. But still my heart wants to record my first impressions …
My heart wants to proclaim, however inadequate my proclamation …
What do I say of your work, Charles Péguy? A work of profound, profound, profound and noble heart. A work by a man I know almost nothing about, save that he was evidently so very, very human …
A work covering so many varied themes … from the glories of nature to the wisdom of children to the esoteric healing Power of the Night.
Of the Mystery of Mary, Mother of God … Of the Mystery of France, ´the eldest daughter of the Church´ …
Of the tenderness of family – wife and husband, parent and child, or of the JOY of being truly NATURAL and CREATURELY . . .
All of this and much, much more is expressed in the form of long monologue, by which a Franciscan Nun is teaching the young Joan of Arc.But as meaningful as all these things undoubtedly are, in invoking them, I only scratch the surface of this authentic masterpiece.
How to go deeper, than these surfaces, albeit pregnant surfaces?
What lies beneath them all? What is underneath them all, that stirred me like no book stirred me for years? That brought wetness to my eyes?
A stab. I can only take a little stab at it.
Human-ness, profound tender, tender human-ness. Human, creaturely naturalness. The wonder of the flesh that the angels will never know …
Foreword for Monarchy by Roger Buck
But not only human-ness, but knowing that this humanness is the very humanness of Christ … who learned to FEEL what neither God nor angel had ever felt before.
All these disembodied spiritualities that I have touched on in this weblog … A Course in Miracles … The Power of Now … Alice Bailey …
Here we have the majestic message that Christ came to bring us something so very, very different to ´spirituality without a body´ (as Richard Moss has called the Course in Miracles).
(Yes, I know that not all these spiritualities so explicitly negate the body, as does the Course in Miracles. I know that some indeed pay a certain sort of attention to the body. But to read you, Charles Péguy, is – well, for me, at any rate – to realise how – by comparison – how disembodied, how detached from nature, they truly are. You are so NATURAL, Monsieur Péguy, in the most joyous, wholesome sense of that word.)
The Franciscan Nun tells young Joan …
"What those that are carnal lack, as we know, is being pure.

But what we ought to know is that those that are pure lack being carnal.
…

The angels are certainly pure, but they aren´t the least bit carnal.

They have no idea what it is to have a body, TO BE a body.

They have no idea what it is to be a poor creauture.

A carnal creature.

A body kneaded from the clay of the earth.
The carnal earth.

They don´t understand this mysterious bond, this created bond,
Infinitely mysterious,
Between the soul and the body.
…

This my child is what the angels do not understand.

I mean to say, that this is what they haven´t experienced.

What it is to have this body; to have this bond with this body; to be this body,
To have this bond with the earth, with this earth, to be this earth, clay and dust, ash and the mud of the earth,
THE VERY BODY OF JESUS.
…

Jesus Christ did not come to tell us tales.
You see he didn´t make this voyage of coming to the earth,
A great voyage between you and me
(And he was so comfortable where he was.)
(Before coming.
He didn´t have all our worries.)

He didn´t make this voyage of descending to the earth

To come recount anecdotes for us.
…

His incarnation, which is really his assumption of the flesh.

His taking on of flesh and of the carnal, his taking on of man and his being placed on the cross and his being placed in the tomb,
His in-carnal-ation and his agony.
…

Because Jesus Christ has become our carnal brother
…

It is to us the weak, that he was given.
He depends on us, weak and carnal,
To bring to life and to nourish and to keep alive in time
…

To keep alive the words of life,
To nourish with our blood, with our flesh, with our heart

The words which without us would collapse fleshless.

To grant (it´s incredible)to grant to the eternal words,
In addition like a second eternity,
A temporal and carnal eternity, an eternity of flesh and of blood
…
A worldly eternity.
…

[Jesus Christ who invented] a new justice. A justice of love. A justice of Hope."

Yes, the Christian Mystery is at the core of all the Nun is teaching Joan.

… a towering understanding of the Christian Mystery

Leading to a goal which is not a disembodied eternity, leading to a goal which constitutes no Luciferic short-cut … but again to:

"a second eternity,
A temporal and carnal eternity, an eternity of flesh and of blood
…
A worldly eternity."
A Second Kind of Eternity!
Wherein Eternity Marries Nature. (Nature becomes Supernatural, as in the administering of Holy Communion).
Yes, again, the Christian Mystery is at the core of all the Nun is teaching Joan.
But how Péguy delineates not only the core, but so many outer facets to the core, so many expressions of Humanity and Nature, Being Redeemed.
To take but one single further example, how this nun comprehends the poignancy of human fatherhood:
"Children are never the ones who do the work.

no one ever works except for children.

It´s never the child who goes to the field, who tills and who sows, and who reaps and who harvests the grapes and who trims the vine and who fells the trees and who cuts the wood.

For winter.

To warm the house in winter.

But would the father have the heart to work if he didn´t have his children?

And in the winter when he works hard in the forest?

With his billhook and his saw and with his felling axe and with his hand axe.

In the icy forest.

In winter when the snakes sleep in the woods because they´re frozen.

And when a bitter North wind blows.
That cuts to his bones.

That passes through each of his limbs.

And he´s completely numb and his teeth are chattering.

And the frost makes icicles in his beard.
All of a sudden he thinks about his wife who stayed at home.

About his wife who is such a good homemaker.

Whose husband he is before God.
And about his children who are peaceful and safe at home
…

They pass before his eyes, in a flash before his mind´s eye, before his soul´s eye.

They live in his memory and in his heart and in his soul and in his soul´s eye.

They live in his gaze.

In a flash he sees his three children playing and laughing in front of the fire.

His three children, two boys and a girl.

Whose father he is before God
…

It´s right that the father die before the children.

He thinks about them, by God´s grace, and immediately the blood rushes to his heart.

And warms him so
…

The bitter north wind in the forest.

Has just now frozen two big tears that fell stupidly upon his cheeks.

In the sunken furrows of his cheeks, and were just swallowed by his bushy beard.

Like two icicles.

There he is laughing and ashamed.

Laughing to himself and ashamed both inwardly and outwardly
And even laughing out loud.

Because it is sweet and it is shameful to cry.
For a man.

So the poor man tries to be discreet.

Pretends that he wasn´t just crying.

People always try to be discreet.
Foreword for Monarchy by Roger Buck
And that again, was to sample, but a single example of Péguy´s paean to NATURE … including human nature and the natural beauty of things.
Nature in the process of Being Redeemed, of course, and being made whole once more. Wholesome …
So many more facets of the Mystery of Christ could still be cited here from The Portal of the Mystery of Hope.
I have chosen Péguy´s paean to fatherhood, again, as but a single instance of the poet´s pierced embrace of Human-ness.
Human-ness on course to Christed Wholesomeness . . .
True Wholesomeness. Not stuffy pretence of piousness. But the real thing. That real sacred-human quality that enters into us at Holy Communion, for example.
O, spiritual seekers outside religion, how once I understood your concerns!
I understood you Anthroposophists, who felt the Church was bankrupt in revealing the Mystery of Christ. But here in the twentieth century, is a loyal son of the Church who fathoms the Mystery of Christ and who knows that Christ is Lord of a New Justice …
No longer do I share your despair in the Church.
O New Age Friends, so taken with spiritualities that fly into the timeless realm; ´in tune with the infinite´; an eternity, that is not ´a worldly eternity´, not a Conjunction of Opposites … a Conjunction of Opposites that negates neither eternity nor carnal, temporal nature …
How often you New Age Friends have seemed to me to hold the assumption—conscious or not—that anything really valuable can be found within the 'Holistic' Sphere. In a really grand 'Holistic' bookshop, say (Watkins in London perhaps, or the Bodhi Tree in California).
Unconsciously or not you seem to hold that there really is not much spirituality outside this Sphere, which is of real worth…
But I doubt that few if any 'Holistic' shops, have ever stocked The Portal of the Mystery of Hope. I might add that I held such assumptions myself, unconsciously for nearly 20 years. The Pope? Catholic Theology? What have they to tell me of anything truly spiritual?
(Good Lord! What arrogance! I who knew nothing at all about the Catholic Mystery!)
Today, I have come to see such vast and great treasures, beyond the 'Holistic' Sphere, never even guessed by so, so many within it. Sometimes however, these treasures are not so accessible to folk who prefer popular faire.
Thus at times, I hesitate to recommend to friends great modern Christian writings – whether those of Wotyla, Ratzinger, or the anonymous author of Meditations on the Tarot – because their scholarly style is more demanding than most of the New Age books.
Indeed, I have felt a need for literature that is profoundly revelatory of the Christic Mystery, but which is more accessible, without losing profundity.
Charles Péguy – you are the answer to a prayer. Your book strikes me as truly quite accessible.
How I would like to see your half-forgotten French masterpiece resurrected in the consciousness of the English speaking world. How I would like to see your book amongst the so-called holistic shelves … but rather than holistic, I fear these very shelves are more SELECTIVE than is commonly appreciated.
O Charles Péguy, I wonder what I might have thought of you twenty years ago, had I discovered you, perhaps on a bookshelf at Findhorn or by word of mouth along the New Age grapevine …
But of course, all that is but to dream. Because from all my years in New Age circles, I cannot recall an author as tender as natural and human as you, who realized the Way of Christ was to lead us evermore into such tender, natural creaturehood … into finite, tender flesh …
O Charles Péguy! All this is but a portion of what you have evoked in me these last hours.
I realize I hardly do you justice at all. For example, I have said nothing at all of what you say of the little girl HOPE, so surprising to God, or the terrible, terrible freedom, awesome freedom and responsibility God has given us …
But if I serve to encourage any who read this, to hunt down the English translation of your masterpiece, I will be more than happy …
O Charles Péguy! Who were you? What were you? Noble soul, most noble heart who understood the heart of Christ and Christianity and who communicated them with such unfathomable and tender eloquence of HEART …Who are you? I must find out.
Foreword for Monarchy by Roger Buck
Buying Books at Amazon Through These Links Gives Us a Commission. This Supports Our Apostolate. Thank You if You Can Help Us Like This!