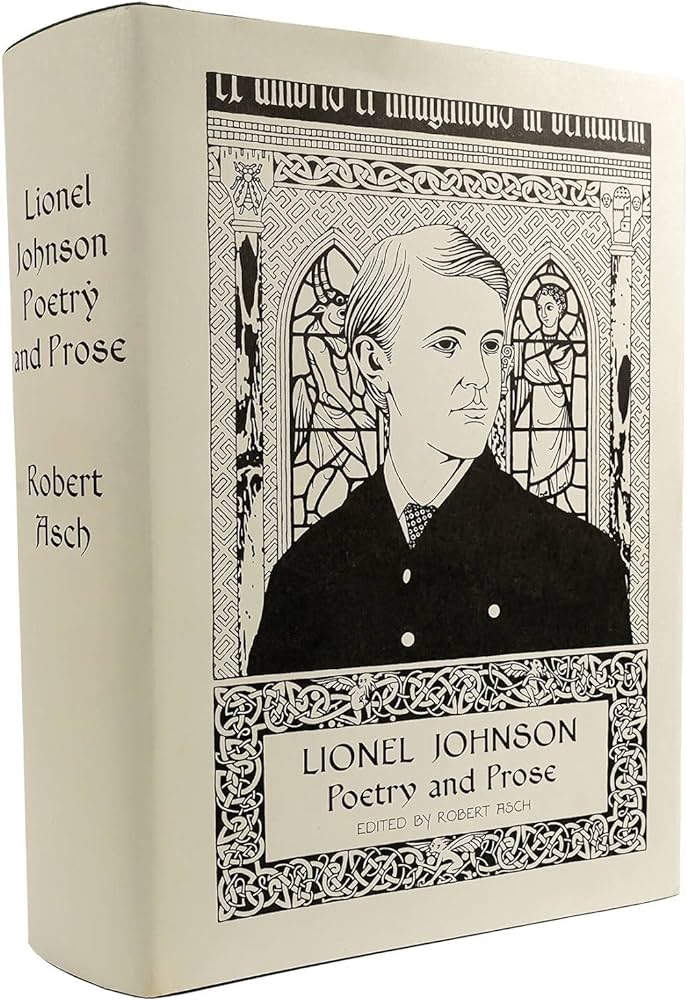 Two majesties, two sublimities entwine in this anthology of Lionel Johnson's poetry and prose.
The first, of course, is the largely forgotten achievement of the fin-de-siecle Anglo-Celtic poet and Catholic convert Johnson. Hailed at his time by W.B. Yeats (who considered him a mentor!) Johnson died young and his few years' output of astonishing verse has since fallen into obscurity.
At least, I am astonished by how deeply moving and beautiful I find his poetry, now that, at long last, it has been introduced to me.
This brings me to the second sublimity here: Robert Asch's majestic effort to recover this beauty for readers in the Third Millennium.
For this book is not merely an anthology. No, it is self-evidently an immense labour of love from Asch, who provides ninety pages of introductory material, copious notes and extensive addenda.
These are masterful. They not only serve to reveal Johnson's noble, suffering brilliance, they also situate him—with great erudition—in the historical and cultural context of his time.
Along the way, then, the reader is enriched by insights into figures as varied as Newman, Yeats and Wilde, as well as the milieu Johnson emerged from – a milieu at once Victorian, Catholic, decadent and far, far more cultivated than anything our crass contemporary culture can conceive . . .
Now, Asch is someone whose dispersed, indeed almost obscure, writings impress me profoundly. I did not, just now, lightly employ the word 'masterful'!
For hardly ever have I seen such a learned scholar and critic who, moreover, enters into the souls of things—people, places, times—with such sensitivity and generosity of spirit.
Too many critics eagerly impose their own intrusive hermeneutics on the lives and texts they consider. Asch, however, is notably lacking axes to grind. Rather, he impresses by his capacity to dwell with his subjects in enormous sympathy.
Clearly, he has dwelt long years with Johnson: savouring, probing, intuiting the depths of a great soul and a great poet. What results is a book of dialogue: heart speaks to heart.
The heart of the long departed Johnson imparts his secrets to Asch, who lovingly re-introduces him to our world.
This book deserves to be studied by anyone who cares about great English poetry. But it has further importance for those interested in the Catholic literary revival, in which Johnson demands much greater recognition. It likewise merits attention from those who love Ireland, for Johnson sang of Ireland, too, and indeed came to identify as Irish . . .
This book brought me unexpected joy! Unexpected, as initially, I was more interested in Asch's work than the unknown Johnson. That is why I bought the book.
Little did I know that Johnson would leave me astonished.
Astonished: it will take more time dwelling with Johnson to find better descriptors than that.
Still, I say this: Asch has introduced me to a devout Christian and Catholic thinker, harrowed and hallowed by his suffering, by his existential awareness of evil and sin and his thirst for redemption.
What I see, what I feel, here is more moving and magnificent than I, as yet, know how to do justice to.
Right now, I only pray that Asch's long devotion to this long forgotten flame will assist to restore Johnson to the place in poetry and letters he so richly deserves.
Foreword for Monarchy by Roger Buck
Buying Books at Amazon Through These Links Gives Us a Commission. This Supports Our Apostolate. Thank You if You Can Help Us Like This!