Here and elsewhere, we have been promising a massive 'monster episode' about both Valentin Tomberg and also my life's journey with Tomberg.
This journey has included many encounters with those close to Tomberg in one way or another. For example: Dr Michael Frensch Tomberg's German biographer who was very kind to me when I lived in Germany; Robert Powell, also kind to me, but whom I, alas, question in this video and even people who knew Tomberg in the flesh, prior to his death in 1973.
Here, at last, is the "monster" then, nearly five hours long—with some further comments below.
As has been mentioned elsewhere, this old website is not really active at present. I am (forever) hoping to renew my efforts here, once the site has been through needed repairs. But I presently write very little for the site.
Nonetheless, I have spoken about this "monster" episode elsewhere on Facebook, social media etc and can easily paste-in some informal comments that just may be of interest here. Here we go then . . .
Originally from Facebook (if memory serves) and adapted elsewhere:
This monster of an episode concerns so many different things: Valentin Tomberg, Europe, Christendom, Globalism and a great deal of my own personal journeys through a number of European countries.
Much about my beloved Ireland and France . . .
It is extremely hard to state just what this video is. But it emerges from some of the most central, existential issues of my life.
Few I know will be interested in its entirety. And yes I know it seems to stark raving bonkers to do almost five hours!
But the strange thing is that by far the most successful episode I ever did (with extraordinary watchtimes, new subscribers, astonishing private mail, etc.) was my first three-hour episode on Tomberg.
More people it seems want to hear me talk about Tomberg than anything else.
Maybe that will change after these 5 hours though!
But this video is not just about Tomberg.
No, this is a very personal, autobiographical video that contains much about Kim's and my life in EUROPE over these last twenty-five years.
Twenty-five years ago in Cambridge, England, I, a 150 per cent New Ager, discovered Tomberg and impulses entered my life that not only led me to the Church, but also led me on a journey through Europe, living in these countries:
—Germany (where I was in very regular contact for a while with Michael Frensch – Tomberg's biographer)
—Switzerland (where a priest who esteemed Tomberg brought Kim and me into the Catholic Church)
— Britain again, mainly in Wales at an Anglican college
— IRELAND (where I have been more deeply moved than I can possibly say)
— Spain (great gifts there, but not like either the former or . . . )
— FRANCE (where, again, I have been more deeply moved than I can possibly say)
— Back to Britain (mainly England – Liverpool) for 2 and a half years
. . . and back to beloved Ireland.
Key to this video (and my life!) is that this long journeying was taken by someone who originally came from outside of Europe.
And my nearly 19 years (in total) in America plus 40 years in Europe give me a certain vantage point, I think, where I can see Europe from the outside as well as inside. (Also America to an extent, except I have been too long away from America, alas . . . )
Moreover, this improbable journey led an Anglo-American New Ager not only to the Church, but also to an improbable belief in European Christendom . . .
For any at this forum who want to give this monster a spin I will just add that probably the most interesting stuff will be in the first 2-3 hours. There are long sections in that where I go into things like France, Ireland, 1789, 1517, counter-revolution etc.
Anyway, call me crazy, if you will, but I believe in this apparently mad five-hour monster.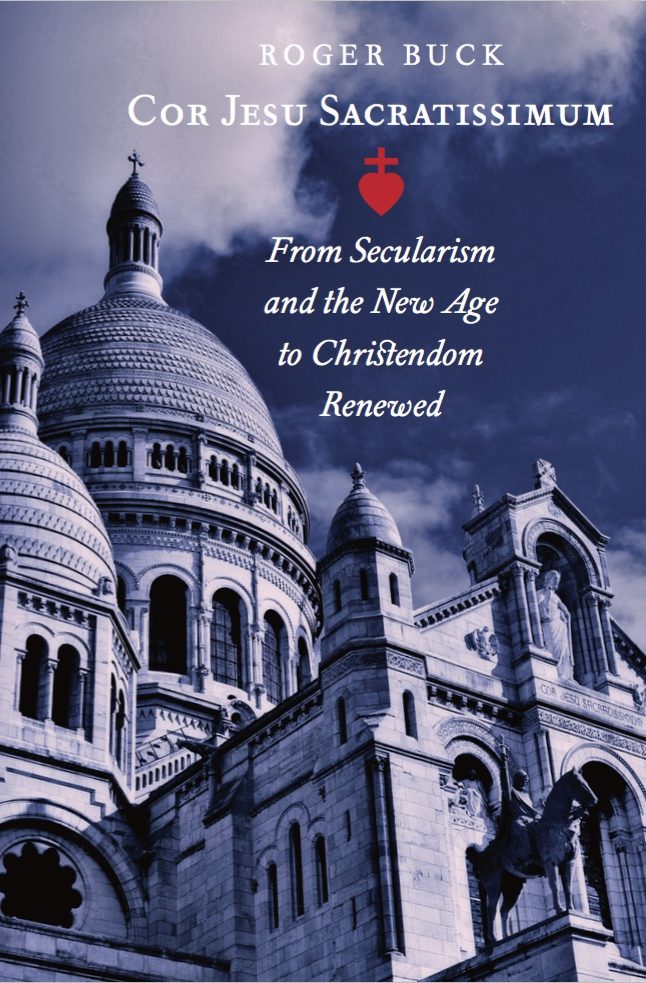 I also take the opportunity, in this rather offhand, impromptu post, to paste in some reviews (or blurbs, really) for my main big book concerning Tomberg and Catholicism—Cor Jesu Sacratissimum: From Secularism and the New Age to Christendom Renewed.
This book is very much about the same themes as the video and is more indebted to Tomberg's work than I can possibly express. But here is what others say:

"In Cor Jesu Sacratissimum, Roger Buck traces his journey–geographical, metaphorical, and mystical–from New Age adventurer to Catholic traditionalist, from spiritual dilettante to repentant wayfarer, from lost to found. Along the way we are treated to spiritually rich meditations on politics, economics, social movements, modernity, the spiritual dangers of our age, and the eternal mysterium of the Church. But Roger Buck does not merely describe his own journey. No, he holds our times up to a mirror and shows us our own faces. And with great clarity."—MICHAEL MARTIN​, author of The Submerged Reality: Sophiology and the Turn to a Poetic Metaphysics

"Roger Buck has done a great service to the Church by his careful and well-informed examination–both charitable and unflinching– of the New Age, and his discussion of wider issues in the Church from the perspective of a former New Age initiate. Buck shows that the New Age is an attempt, however flawed, to escape the materialism of modernity, and that it is Catholicism in its traditional forms–with its mystery and ritual, its sacramentals, art, and pious practices–that can best reveal the immense reality of the suffering and love for all mankind of Christ's Sacred Heart to those trapped in the false mysteries of the New Age."—JOSEPH SHAW​, Chairman of the Latin Mass Society of England and Wales
Foreword for Monarchy by Roger Buck

Buying Books at Amazon Through These Links Gives Us a Commission. This Supports Our Apostolate. Thank You if You Can Help Us Like This!