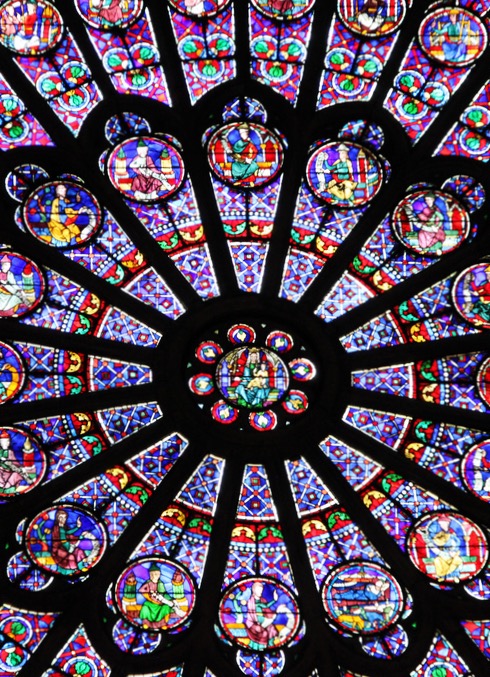 Today, we feature an extract from my just published book Cor Jesu Sacratissimum: From Secularism and the New Age to Christendom Renewed – the book's prologue.
That said, this extract may seem familiar to long term readers, for years ago, back in 2010, it appeared at this weblog in an earlier form.
Indeed, over the years, I shared a number of portions of the book here in draft form – such as this long autobiographical section here regarding my conversion experience.
(But having mentioned that slice of autobiography, I hasten to add my new book is not an autobiography! Rather it only occasionally includes autobiographical elements to illustrate the main themes of the text. Thus some of my experience as a New Ager at the Findhorn community in Scotland is included, as well experiences living in Catholic Ireland, France and Spain.)

At any rate, a point I want to make is that small portions of the book have appeared here in draft form, although the vast majority of the book has never been seen anywhere before. And indeed, the draft material that has previously appeared here has usually been reworked into a considerably better finished form.
But having explained all that, I now give you the book's prologue!
Prologue: One of Us

One of us drives a 1937 Rolls Royce Silver Shadow, plated in chromium that gleams.

One of us picks bananas for a living.

One of us longs to play at Wimbledon.

One of us longs to go to Outer Space.

One of us longs for the next edition of Better Homes and Gardens.

One of us designs cigarette packets and studies how to target customers.

One of us is dying from cancer of the lung.

One of us aches in fear. (He bungled the job and left his prints at the scene of the crime.)

One of us shakes in fear—of inadequate care in her old age. (And so she hoards: stocks and shares, property and policies— not to mention Krugerands.)

One of us sees inadequate care everywhere she looks and pours her lifeblood into social causes.

One of us is very kind and simple. (Her door is open to all who come, and she feeds them.)

One of us cannot stop his pedophile fantasies and loathes himself.

One of us is a pedophile and does not loathe himself at all.

One of us prays fervently to Allah for the conversion of Europe.

One of us worships at the "church" of Elvis.

One of us dreams of owning every issue of The Amazing Spiderman in near mint condition.

One of us ensures her seven poodles never fail to receive the most immaculate of grooming.

One of us is so starved that her breasts produce no milk for her baby.

One of us is fighting to get her food in a brutal third world country.

One of us longs to help the animals. (She wants to be a veterinarian when she grows up.)

One of us would "heal" the world—by eliminating "all God-talk and metaphysical nonsense."

One of us regrets bitterly the collapse of the Union of Soviet Socialist Republics.

One of us had thirty years of psychotherapy—and wonders why.

One of us murdered someone.

One of us was just aborted.

One of us stares at television from morning to eve—and is two years old.

One of us aims to give every human being the respect, mirroring, and interest that each one craves.

One of us photographs Playboy "Bunnies" for a living.

One of us is infuriated by "intolerant fascists" and regularly explodes when they refuse to conform to her own codes of conduct.

One of us is a groupie.

One of us believes in a "New Age of Aquarius" and that all this "Old Age" stuff will shortly vanish from the world.

One of us volunteers long hours in an African hospital that is breaking down.

One of us studies melting polar ice—with growing horror.

One of us is freezing.

One of us prays 159 Hail Marys a day, imploring help for humanity.

One of us works seven days a week, 16 hours a day in a sweatshop—making clothes for us to wear.

One of us longs for the perfect clothes, the perfect house, the perfect lawn, and the perfect pool.

One of us has never stepped beyond the confines of the English-speaking world.

And…

One of us looks on at all this, with a Sacred Heart of Infinite Burning Charity and feeling every individual gesture, tear, and tragedy. He calls each of us to come be warmed at His Blazing Hearth of Love and join Him in His Work.
End of book extract.
I shall just add that many, if not all of the above, foreshadow definite themes that appear in the book.
For example, the last one about the 'confines' of the Anglosphere – the world dominant – is most pertinent indeed to what I am trying to say. I will also note that I read this passage in a short video at our new YouTube channel here:
But that is all for now—apart from a final request to my regular readers. For if any of you felt you could share this post on Facebook and Twitter etc, I would be particularly grateful. Thank you if you can help me make this book better known!
Foreword for Monarchy by Roger Buck
Buying Books at Amazon Through These Links Gives Us a Commission. This Supports Our Apostolate. Thank You if You Can Help Us Like This!