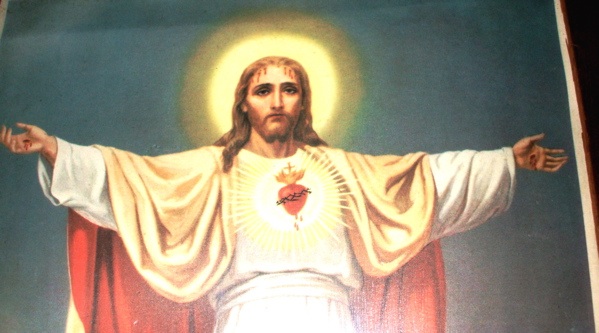 Cor Jesu, Rex et Centrum omnium cordium
(Heart of Jesus, King and Centre of all hearts –
From the Litany of the Sacred Heart).
It is frequently asserted in certain Catholic Traditionalist circles that the religion of the so-called 'Spirit of Vatican II' is a new religion, so different to what preceded it, that it must be considered foreign and novel.
For the moment, I neither wish to affirm nor negate that proposition. What I would like to say, however, is that one can become sympathetic indeed to the abruptness of that notion, if one actually bothers to read Catholic thinking in the immediate decades just before the Council.
In recording these thoughts, I have in mind the writing of a long–forgotten French Cardinal, Alexis Henri Marie Lépicier. Now, shortly before he was raised to the Cardinalate, he wrote a book Jesus Christ, the King of Our Hearts published in 1921 – with an introduction from His Holiness Pope Benedict XV.
There, Pope Benedict XV writes:
With sentiments of deep pleasure We have received that work … of small proportions but profound in ideas, in which with easy and clear reasoning and with arguments drawn from theological sources you show that Jesus Christ is King of all mankind.
What gives Us particular satisfaction is that, in developing and illustrating the nature of His kingdom, which He has by virtue of divine right, you have established the duty incumbent on each of us, on the family, and on society at large of consecrating themselves to His most Sacred Heart [Italics mine].
And you easily persuade all who read your book to do so, such is the sweet odor of piety which it breathes forth.
Here in these words, we have ideas which, though buried today, were pre-eminent in Catholic thought before the Second Vatican Council – ideas such as the consecration of self and society to the Sacred Heart and Jesus Christ as King – and our duties to such …
It is a strange, penetrating experience reading this book today. It is very hard indeed for me to imagine either a Pope or a (future) Cardinal writing now what this book contains.
Although 1921 might not seem so very long ago – some of us were alive in this era or have had parents and grandparents who were – we are clearly in a very different universe here: one where the Catholic Church was far more aggressively counter-cultural than it is today.
This is a universe in which the Church which was not willing to take the outrages of the planned construction of secularism lying down.
And it is a universe wherein the Catholic Church is not only in full horror of the 'Godless Communism' beginning to destroy Christianity in the East, but also in the 'Godless Republicanism' of the Capitalist West.
Lépicier himself would have witnessed the incredibly hostile actions of the Third Republic in France, expropriating all Church property (that is to say, stealing it) and expelling religious, destroying religious education and inculcating materialistic prejudice in generations of children to come.
In horror of the new materialistic values being generated everywhere, the Church of 1921 is still looking toward Christendom – towards a society once centred on Jesus Christ. It is a Church still longing for a Sacred Civilisation.
And to that end, it is a Church meditating, as Lépicier is doing here, on the numerous invocations of Christ as King in the Bible:
It was not enough for the eternal Father to have predestined Jesus Christ from all eternity to be the supreme King of the whole human race.
He, whose very operation is marked with the stamp of infinite wisdom, wished moreover, to impress upon the temporal birth of His Son such a seal of honor and dignity, that this newly-born Babe might appear to the eyes of Heaven and earth as true King and Lord of humanity.
First of all, when the Angel Gabriel appeared to the Blessed Virgin in order to announce to her, on the part of God, that the mystery of the Incarnation was soon to be accomplished in her virginal womb, he thus portrayed to her mind the prerogatives of this her future Son:
He shall be great and shall be called the Son of the Most High. And the Lord God shall give unto him the throne of David his father, and he shall reign in the house of Jacob forever. And of his Kingdom there shall be no end" (Luke I 32, 33 – italics mine).
This is as much as to say that the son who was to be born of the Virgin Mary was to be the King Israel had so long wished for and expected; he was to be the son of David according to the flesh and was to inherit the royal throne from him.
But that temporal throne existed no longer: the scepter of Judah had passed into strangers' hands and was not to come back to the Hebrew people.
How, then, shall the future Messias reign over the house of Jacob? The only answer is this: He will reign in a fashion not temporal, but spiritual, not over the material descendants of Jacob only, but over his spiritual progeny, over the whole Church composed of Hebrews and Gentiles united in the oneness of faith, and He will reign over them forever …
See how much better is the kingdom of Jesus Christ than that of the kings of the earth. An earthly king can, with the material resources at his disposal, set in motion armies of soldiers, make them march like one man; he can with the force of his armies subdue his foes beneath his scepter, but he cannot change the hearts or the wills of his subjects, he cannot make any of his subjects do out of pure love what this man otherwise would not like to do.
It may happen, and it not infrequently does happen, that the minds of those whom an earthly king has subjected to his sway become, after being conquered, yet more estranged from him than they were at first; and that, in spite of all the means at the conqueror's disposal, the conquered keep and nourish in their hearts a mortal hatred against their new lord.
But Jesus exercises His power in a far more sublime fashion. He penetrates with His grace into the most secret depths of the human heart.
In response to His touch, the will that was at first ill-disposed and rebellious becomes humble and meek. The regal dignity and power of this King of our hearts is evinced by a mysterious weapon which is His own Heart and the love with which it burns. It subdues and wins over the hearts of men.Cor Jesu, Rex et Centrum omnium cordium.
There is much, much more in this book on the strange, paradoxical Biblical images of the Kingship of Christ – from the humble royal entry into Jerusalem on a donkey to the conviction of Pilate affixed to the Cross. To all this – and to its significance for the Church of the past and of today – I want to return.
But before that, I also want to note that much of the strangeness of this book to modern ears will rest in the fact that it is unapologetically, unabashedly and profoundly REVERENT, venerating the Active Miracle of the Presence in the World of Jesus Christ, King of Our Hearts …
This tender Saviour unceasingly pours forth His gifts among men, even such as are His enemies, keeping open to them that inexhaustible treasure of grace, the holy sacraments, which are the means by which the bounteous mercy of His Heart abides with us forever …
As the office of mercy is principally to relieve the misery of our neighbor, we may first cast a glance at this same misery, the better to understand how Jesus succours His suffering brethren.
See that immense crowd of men, in whose hearts lodges sorrow, on whose foreheads may be read an indescribable unhappiness, who lifting their hands toward Heaven exclaim in supplication: "Give us this day our daily bread": the bread to sustain this miserable body, but yet much more, the bread which satisfies the famishing soul, the bread which comforts, which gives vigor and strength to continue the pilgrimage of this life between thorns and briars until it reaches the holy mountain of God.
How in the year 2010, I imagine many a modern cynical mind ridiculing such words, dear Reader! How I imagine it, precisely because for so many years, my own mind was conditioned by modern cynicism.
For such unabashed reverence is not modern! In the past we looked towards the "upright pyramid", turned in reverence to the apex. Now in the present our eyes are so very frequently turned to the "inverted pyramid", to what is most base and cynical and reductionist.
And yet after years of experiencing the daily bread of the Sacraments, how much truth I see in this, as I also experience "the bread which comforts, which gives vigor and strength." And how much lost truth I also find in these words from 1921:
Now, behold Jesus Christ, our beloved King, full of compassion, who, lifting up His eyes to His heavenly Father, blesses the bread, saying: 'This is my body" which He afterwards breaks for mankind who await it.
O marvelous gift, O sacred banquet ! How good, how great, how munificent Thou art in Thy gifts, O King of our hearts ! Who would not weep with tenderness at seeing Thee, our glorious Sovereign, more gentle and generous than any mother, give Thy little children, who are Thy own beloved subjects, Thy flesh as food, and Thy own blood as drink ? And who would say that this is not the gift worthy of a divine King, nay, the gift above all others …
This is obviously then, not only the expression of a Church profoundly reverent to the Mystery of Christ, but also confident in herself and confident in her mission to bestow the life-changing Sacraments …
To be continued, possibly, though not necessarily, in the next entry of this weblog.
My Two-Part EWTN Interview
Foreword for Monarchy by Roger Buck
Buying Books at Amazon Through These Links Gives Us a Commission. This Supports Our Apostolate. Thank You if You Can Help Like This!