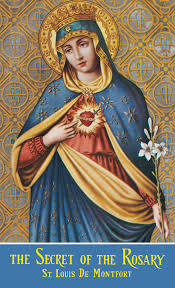 This small book is an absolute gem. A gem for those who want to learn about the Rosary prayer as well as for those who pray it already. As someone who prays the Rosary daily, St Louis de Montfort sets fire to my passion for this incredible prayer. My faith in its efficacy is rekindled page after page.
St Louis describes the Rosary as a "Crown of Roses" and as "The mystical rose tree of Jesus and Mary in life, death and eternity."
He says that "every time people say the Rosary devoutly they place a crown of one hundred and fifty-three red roses and sixteen white roses upon the heads of Jesus and Mary. Being heavenly flowers these roses will never fade or lose their exquisite beauty."
And he writes that the roses of your rosary will "never wilt of die, and they will be just as exquisite thousands of years from now as they are today."
In simple language, this book is presented in the form of the prayer itself, with 53 short chapters which include pieces of history, advice and preaching, laid out like a Rosary of 53 Ave Marias.
St Louis writes with zeal about that which he steadfastly believes in: That which is not only important for increasing our love and devotion to Our Lord and Our Lady – but also, as given for our salvation … the combination of Our Lord's Prayer and The Angelic Salutation, The Holy Rosary.
He states that through the Holy Rosary:
1. Sinners are forgiven;
2. Souls that thirst are refreshed;
3. Those who are fettered have their bonds broken;
4. Those who weep find happiness;
5. Those who are tempted find peace;
6. The poor find help;
7. Religious are reformed;
8. Those who are ignorant are instructed;
9. The living learn to overcome pride;
10. The dead (the Holy Souls) have their pains eased by suffrages.
He claims that the Holy Rosary has "chased away devils, destroyed sin and renewed the world."
On reading this book, one will gain knowledge of the origins of the Rosary in the appearances of Our Lady to St. Dominic and his subsequent passion for preaching the Holy Rosary.
It also contains history of the passing of the legacy from St. Dominic to Blessed Alan de la Roche and in turn to St. Louis himself. All three belonged to the Order of Preachers, the Dominicans who have a profound connexion to the history of the prayer.
The holy Rosary was brought to the world, firstly by Saint Dominic himself, whom on retreating to a forest to pray continuously for three days and nights for the conversion of the Albigensians and sinners, fell into a coma. Our Lady appeared to him and said:
"Dear Dominic, do you know which weapon the Blessed Trinity wants to use to reform the world … the Angelic Psalter which is the foundation stone of the New Testament."
St. Louis gives insight into the very real dangers of evil, of course taken far more seriously in Saint Louis' time. This loss of such seriousness is a sad thing indeed! The images Saint Louis colourfully depicts, bring to life these dangers, now so invisible to our sensibilities. The Rosary as a prayer to combat the evil one, is a must!
St. Louis' writing is also very colourful, regarding the many beautiful accounts of visionary experiences encountered by people over the centuries through devotion to the Rosary.
For example, St. Louis recalls from the chronicles of Saint Francis, the account of a young friar, who prayed the Rosary daily. One evening, he was found in his room:
bathed in a heavenly light facing Our Lady who had two angels with her. Beautiful roses kept issuing from his mouth at each Hail Mary; the angels took them one by one, placing them on Our Lady's head, and she smiling accepted them.
Now, one might accuse St. Louis of reprimanding those who do not pray the Rosary. I know folk who pray other forms of prayer and who seem to me at least far from lost or damned. In this day and age, it seems that simply telling someone to do something seems to put their back up, even if it is something of great benefit to them, such as the Rosary prayer.
Those of you who are of this disposition, beware! St Louis may put your back up. But, I implore you, do not relinquish such a gift as this small volume for such a tiny reason.
Over my ten Catholic years, I have sadly noticed that there is an attitude amongst Catholics of today, that the Rosary Prayer is for the simple, even superstitious type of person. St Louis strongly warns of these things.
He writes in this vein of a learned Bishop who on expressing his pride in wearing a Rosary, said:
"My dear brethren in Jesus Christ, I am a Doctor of Theology and a Doctor of Canon as well as Civil law, but I say to you, as your Bishop, that I take more pride in wearing Our Lady's Rosary than in any of my episcopal regalia or academic robes. . . .

"How true it is that this God-given prayer has divine power- the power to touch our hearts and to fill them with horror of sin and the love of virtue", St Louis quotes a Danish priest as saying . He continues to write himself: "I, who write this, have learned from my own experience that the Rosary has the power to convert even the most hardened hearts."
Through my nine years of daily Rosary practice, I have experienced how this prayer brings one close to Our Blessed Mother, in such a way that one can almost have a continuing sense of Her angelic presence.
I can almost imagine that which St. Louis states; of roses being created with each Ave Maria, formed through decades into Crowns for the Sacred Heads of Our Lord and Our Lady.
I am a changed person indeed and I know it is in great part due to the power, the efficacy and the heavenly graces brought to earth through the praying of this, I believe, greatest of prayers, The Most Holy Rosary of the Blessed Virgin Mary.
I fully recommend this book to those who know nothing of the Holy Rosary and to those who know much. Simply the words of this Saint bring with them grace from heaven. Whilst that of which he speaks, his colourful passion and his zeal for this sublime prayer, cannot but help one to reach for their beads and pray.
Foreword for Monarchy by Roger Buck

Buying Books at Amazon Through These Links Gives Us a Commission. This Supports Our Apostolate. Thank You if You Can Help Us Like This!