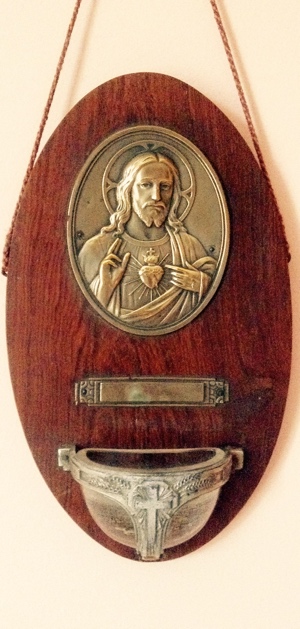 Today we have the third in my new series of YouTube videos devoted to Counter-Revolution, one where I try to define what Counter-Revolution is.
But before coming to that (below) let me make some brief remarks on what is pictured above (which also features in the video).
The image is of an old French Holy Water font for the home that I got from France. And in our home, it is, as I say in the video, filled with Holy Water blessed in the traditional Latin Rite (which includes exorcism) by the Institute of Christ the King, a French order of Latin Mass priests who profoundly inspire me here in Ireland (as they also did when I lived in France, Spain and England).
Now, this is the greatest, most important thing that the image above represents to me – to have Holy Water in our home blessed according to the traditional rite – what a gift that is! And how rare a gift it is these days!

But once upon a time, it was hardly rare at all, at least in some parts of the world. For here in Ireland, it was very common-place. Countless Catholic homes had it installed, as a matter of course. And back then all the Holy Water was exorcised and blessed according to the traditional rite. So too did countless Irish homes have a lamp burning to honour the image of the Sacred Heart of Jesus.
And, of course, the same was true of that lost world of Counter-Revolutionary Catholic France. And although I said above that the most important thing for me, of course, is the presence of this Sacred Water in our home, the font also serves another purpose: it calls back to mind that time when Catholic France resisted the 1789 revolution, resisted it to the teeth!
O Counter-Revolutionary Catholic France, how you haunt my soul and how blessed I was to spend more than two years living in France and visiting the major sites of Counter-Revolutionary French culture, including Lourdes, Paray-le-Monial, La Salette, Pontmain and the Vendée! (All of which features in my latest book Cor Jesu Sacratissimum: From Secularism and the New Age to Christendom Renewed and which I likewise plan to highlight in future videos.)
And how blessed I am today to live in Ireland in a little village steeped in the living memory of a time when Catholic Ireland still fiercely resisted the ongoing liberal revolution – in so many ways set in motion by that original French Revolution of 1789 and still going strong today in the aftermath of the 1960s cultural and sexual revolution, today's gay "marriage" revolution and tyranny of Political Correctness, etc.
Now, all this serves, I hope, to illumine a little why I say what I do in the newest video which goes into such topics as the 1789 French Revolution, the Vendée genocide, Joseph de Maistre, the sexual revolution of the 1960s and why liberalism isn't liberal . . .
If you appreciate the video, please do like and share it on social media (there are buttons below to do that on Facebook and other social media platforms). I would likewise be very grateful for any subscriptions – all of which serve to stimulate YouTube's gigantic supercomputers to realise people care about these videos and to promote them on YouTube.
Of course, I am grateful for anything at all that will help me hoist the flag of Counter-Revolution again, here in Ireland the world. Thank you.
Foreword for Monarchy by Roger Buck

Buying Books at Amazon Through These Links Gives Us a Commission. This Supports Our Apostolate. Thank You if You Can Help Like This!