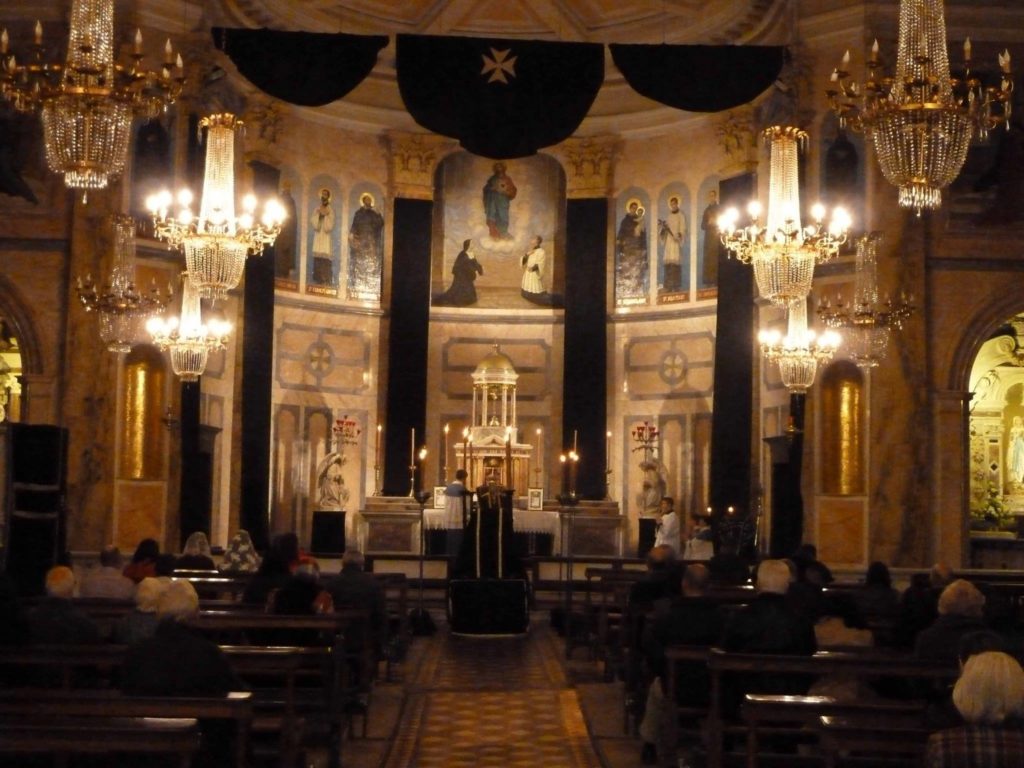 Some years ago when Roger and I lived in Liverpool, we visited a beautiful church dedicated to the Sacred Heart. Sadly, this church was usually locked – opened only for Holy Mass. So we attended Mass there simply to have the opportunity to see it.
Once inside, we were overwhelmed with the awe and beauty of this vast nineteenth century church. Struck we were by its soaring gothic arches, its magnificent stained glass, depicting the Revelation of the Sacred Heart of Jesus to St. Margaret Mary.
It was moving to see the sanctuary left much intact, with its delicately ornamented high-altar and reredos, pulpit and side-altars. In fact, much of the general structure within this enormous church, was left as it always had been and therefore bore a pious, traditional ambience.
But we were to find a jarring contrast to our experience within these pious walls.
For the priest there was notably different from his traditional surroundings. As he celebrated Holy Mass, he altered almost every phrase of the liturgy, filling it with his own innovations, which continued even through the consecration. I have never before heard such ad-libbing.
Rather than being respected as the sacred rite, composed over millennia, through Divine Revelation and inspiration – with the sole function of disclosing the Redemptive mystery, healing our wounded souls and reuniting us with the Godhead – it was as though the Mass belonged to this priest, to do with as he pleased. It appeared to be designed by him and controlled by him.
Yet still more horror was to come. When I went up to receive Holy Communion, I genuflected before the Blessed Sacrament and then extended my tongue to receive Our Lord.
But the priest didn't place it there.
Instead, he lowered the Holy Eucharist down towards my hands, which were also lowered. However, I knelt down to place my tongue beneath the Eucharist and eventually managed to receive the wandering Host in my mouth.
At that point, the priest exclaimed a loud "Whoops"!
I didn't fully realise what was going on, until I walked away. Obviously, the priest wanted me to receive Holy Communion in the hand – something unbearable to me. Thus, when I managed to receive on the tongue, he expressed his distaste with "Whoops".
Unaware of what had happened to me, Roger spoke to this priest after Mass and complimented the church's beauty. The priest's response was dismissive, indicating that he would have preferred to see this church modernised.
I returned to my pew deeply distressed. This was dreadful, the absolute pits, Holy Mass so greatly altered that it hardly appeared to be the Mass at all, let alone Holy.
Sadly, we were never to see that beautiful church again.
Now, I have not thought of that awful experience for many moons.
But not so long ago, it came back to me when Roger and I received Holy Communion in another beautiful nineteenth century church dedicated to the Sacred Heart.
For this time it was the Sacred Heart church of Limerick in Ireland, rather than Liverpool in England, where the Institute of Christ the King Sovereign Priest reside and celebrate the Sacraments in the Tridentine Latin Rite. It was the Feast of the Sacred Heart of Jesus and Monsignor Schmitz, Vicar General of the Institute and Provincial of Ireland, celebrated Holy Mass.
What an incredible difference between these two Masses, each in old Sacred Heart churches! From the pits, I went to the pinnacle.
The sacred liturgy – the music, the décor, the vestments – were exquisite, heavenly even.
But what touched me more than anything was the way in which Monsignor Schmitz administered Holy Communion. It felt as though it were one of the greatest acts of love I have ever witnessed by another human being.
For the Monsignor placed the Holy Eucharist upon my tongue with such care and tenderness, as though Our Lord Himself was feeding me. I cannot express the beauty of that moment; a moment beyond words. Never before have I experienced such a tenderness at Holy Mass.
The distance between that "Whoops!" and this tenderness seems as vast as that between galaxies…
Returning to my pew, my heart brimmed with love and my eyes welled up with tears of joy. Holy Mass was unequivocally Holy.
As I ponder these two experiences, I am left with many questions. For instance, can these extremely different Masses really be the same, in terms of receiving Sanctifying Grace?
For whilst I wholeheartedly believe that the consecration is valid, however dreadful the liturgy is, I believe just as passionately in the importance of the liturgy for rendering the correct state of soul to receive the Holy Eucharist.

With the first Mass in Liverpool, which truly felt like the pits, a man – the priest – was at the centre of the celebration. Whilst, with the latter, Holy Mass celebrated by Monsignor Schmitz, God was honoured at the heart of everything.
With the former, one is receiving a supernatural miracle, the Holy Eucharist, in a banal environment created by a human being, who has the audacity to completely change a sacred ritual into what he thinks it should be. Thus, a mighty incongruence ensues.
On the other hand, with the Traditional Latin Mass of the Institute, one's whole being is opened and soothed by the exquisite nature of the liturgy, divinely inspired to heal one's soul. One is therefore deeply prepared to receive Holy Communion – Our Lord Himself in a way that is worthy of Him and the gift He is bestowing upon us.
Foreword for Monarchy by Roger Buck

Buying Books at Amazon Through These Links Gives Us a Commission. This Supports Our Apostolate. Thank You if You Can Help Us Like This!