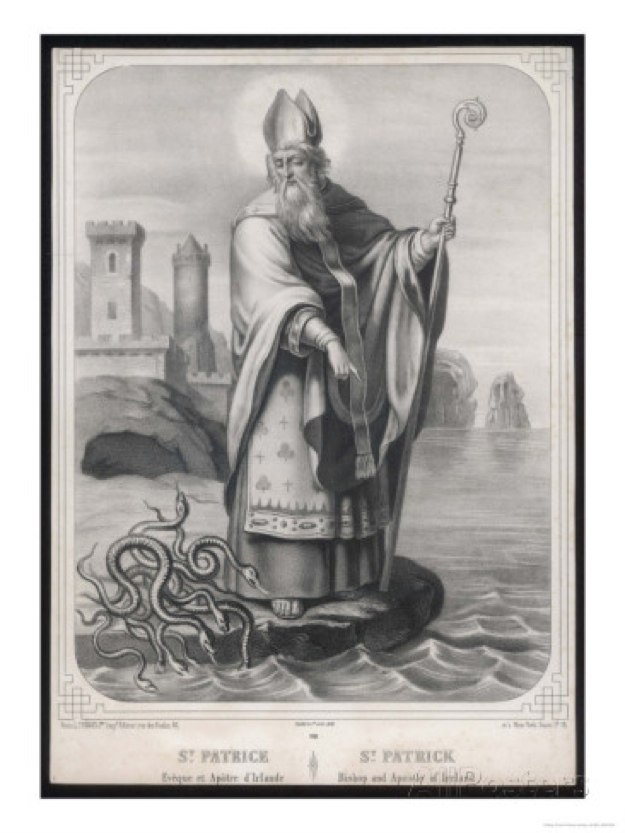 Not long ago, my heart was wrenched by a commenter here who left these lines about the present state of Ireland:
The aching sadness still hits me like a ton of bricks sometimes – am I living in Ireland, or in a huge Epcot Centre version of Ireland?

There used to be this country called "Ireland"… didn't there? Did I only imagine her?!? Was she ever really here? Where is she?

Perhaps I would feel closer to her and could see her clearly in my mind's eye if only I could leave this strange FrankenIsland. But this madness has swept over the entire West – where else is there to go now? …

What I can't get my head around is how easily the Irish gave away our entire heritage on a silver platter, and not with a bang but with a whimper.
Unusually, I decided to to respond to this by writing a post. And, at the risk of boring redundancy, I want to recap a little from what I wrote several months ago:
Ireland once had a Catholic, Gaelic culture which felt natural and right to the vast majority of her citizens.
That culture has now been almost washed away in the deluge we call globalisation. (This, of course, is too simplistic: if I were writing more I would include everything from global capitalism to the New Age movement to the aftermath of Vatican II and more.)
For now, my point is that remnants of genuine Irish culture still remain and they need to be protected, cherished, guarded from the flood.
Thus, I arrived at the image of building an ARK for Catholic Ireland. Trying to describe this Ark, I turned to an American author, Russell Shaw. For in his book, American Catholic, Shaw speaks of recreating in America a Catholic subculture. Shaw's words about this subculture provided a cue for me as to what is needed in Ireland. As Shaw writes:
It is necessary to restore – or more properly create – a healthy Catholic subculture. The old Catholic subculture, with all its strengths and limitations, was the bedrock foundation of American Catholicism until well into the twentieth century. Then, weakened by demographic shifts and cultural revolution, it was tossed aside by Catholic intellectuals and the leaders of the Church.

There is no bringing it back to life now, as some Catholic nostalgia buffs apparently would like to have happen. But the need is imperative for a new subculture … as the underpinning for American Catholicism in the twenty-first century.

When I speak of creating a new Catholic subculture, the reaction often is, 'That isn't realistic. What you're talking about can't be done.' It's the scepticism that is unrealistic, for that supposedly unrealistic project is, for better or for worse, already taking shape – right before the sceptic's eyes, if they would only open their eyes, and see it.

Signs of an emerging Catholic subculture … include … proudly orthodox new Catholic colleges and universities (and a few that are not new but have taken serious steps to refurbish their Catholic identity); new, similarly orthodox religious communities; media ventures like EWTN and Catholic radio, along with a growing number of websites … periodicals and publishing houses; professional organisations … and groups and movements committed to promoting an authentic Catholic spirituality for lay women and laymen living and working in the secular world.
And Shaw also says:
The new Catholic subculture is not a pipe dream. Already it is taking shape here and there. Many times it represents a reaction by individuals and families against what they rightly perceive as a morally destructive American secular culture. Some homeschool their children. Others have given up on television and carefully police access to the Internet in their homes. Still others have taken the radical step of moving out of big cities and their suburbs to smaller, quieter, more conservative, and less culturally threatening communities where the assaults on their eyes, ears, and morals – and those of their children – are less flagrant.
All that I repeat, because I seems crucial to me that Irish Catholics take stock of Shaw's counsel. As I wrote before:
For me, his words about America point to what must happen in Ireland. If there cannot be an authentic Catholic culture in Ireland at this time, there can be the creation of a subculture.
Again, there is more from that blog here …
However, it is one thing to point, rather vaguely, in something's direction and another to truly grasp what that something – in this case an Ark – truly looks like.
For when I wrote that post above, the whole thing remained nebulous, fuzzy in mind. In other words, it was ABSTRACT: a fine-sounding programme with fine-sounding ideals about families protecting themselves from 'morally destructive … culture'.
But how does this happen in real flesh and blood life? How can this Ark be constructed? Here is a question I have been holding in prayer.
Recently, however, my prayer has begun to be answered. For, by the Grace of God, I was led to see a place where the Ark was no abstract programme, but a living, breathing reality.
It happened in Knock, Ireland and the place I speak of was not a grand new institution, organisation, college or whatnot.
Rather, it was a humble family home, in which Kim and I were invited to stay. To experience that home was unforgettably moving. For two days, Kim and I joined a family with eight children (though not all of them were then present).
And I felt transported in time – taken back to an Ireland I never knew. Nightly, this family prayed the Rosary – in Irish – by the fireplace, recalling a time in Ireland where families everywhere gathered round the hearth to supplicate Our Lady.
How deeply touching it was for Kim and me to participate in this ancient Irish family tradition. (I once knew an old woman who recalled her pre-television childhood in rural County Clare. Each night, she said, she could go from country home to country home and join with each family whilst they prayed … )
Moreover, the parents in Knock – John and Naomi Lacken – told me of their own childhoods in an increasingly forgotten age. I listened, deeply moved to hear how their parents had instilled in them a profound Catholic faith.
Here I was struck by not only Naomi's saintly mother, but also John speaking of the firm, devout, patriarchal rule of his father, who had laid down the law in a large Irish family (only thus was a loving order maintained).
As I listened, the contrast with my own family could not have been more striking. They came from large families which did not contracept and a rich, traditional culture rooted in centuries of devotion.
By contrast, I am a single child who grew up in a rootless family, as it shifted around various locations on the West Coast of America (starting with Los Angeles). Moreover, there was chaos in our little family. I would rather not reveal more, but the contrast with John's strong father, deeply rooted in his faith and my own gentle – often too gentle – father was sobering.
Seeing John, I saw how his father had passed something down to him that I will never have: a pattern of strong faith and fatherhood rooted in generations of the faithful Irish Catholic fathers holding together large families.
All of this is not to imply, of course, that there were not weak or absent fathers in the Irish past! Of course, there were plenty, as there are everywhere in this fallen world. However, it was clear John had inherited something that was once far more common in Irish life than it is today.
And John was not squandering his inheritance! He and Naomi were outraged by the secular-liberal propaganda rife in Irish society today. Thus, television was absent from the home. Their children were protected from its pernicious influence.
Moreover, witnessing the horror of secular education, they had pulled their children out of the Irish school system and taken on the formidable commitment of homeschooling a large family.
In short, God had led me, I believe, to a living experience of exactly what I had seeking! For although I trust Russell Shaw that this sort of thing is happening more and more in America, I had really never experienced anything like it in Europe.
Significantly, John and Naomi have had to rely on American resources to achieve their goals – they use the Seton homeschooling programme founded by Anne Carroll, who is also associated with Christendom College in Virginia, founded by her husband Warren H. Carroll.
Christendom College, it might be added, is one of the new orthodox colleges in America that Shaw refers to above. And today in Ireland, we now have the initiative of Newman College, founded on the model of those American universities. Indeed, one of the Lacken children had attended Newman College.
And so I have come to see more of how Shaw's notion of a new Catholic subculture, already begun in America, might work in Ireland.
However, I do not mean to suggest the necessary work in Ireland can be done simply by importing American models. No! Much else will be needed, which draws on Ireland's own long traditions, submerged now in a toxic sea of secular and materialistic propaganda.
Here again, I come to the notion of an Ark. Thus, I was very moved to hear that John has something in mind he calls the League of the Holy Family.
Now, the details of this League are not yet fully clear to me. Plainly, though, John wants to bring together families who are willing to resist the corrosive tide and give their children Christian instruction and Christian tradition – rather than handing them over to secular instruction and secular indoctrination.
And in John's initiative, I glimpse a microcosmic analogy of the mythic act of St. Patrick. For just as St. Patrick, patriarch of Ireland, once cast the snakes out of Ireland, it now falls upon Catholic fathers to cast out the snakes in Irish households – one by one …
Today is the feast of St. Joseph, head of the Holy Family. I am very happy to point to John Lacken's new initiative as a sign of hope in the present darkness that surrounds this land. You can visit the Legion of the Holy Family (Legio Sanctae Familiae) on the web here.
For myself, I will never forgot those days of rare privilege, seeing an Irish family, with formidable commitment and courage, living out the fullness of Irish Catholic tradition. I will never forget the real ritual of praying that nightly Rosary in Irish, rather than the pseudo-ritual of huddling around a television set. (Or even worse, atomised into different parts, one child watching TV in her room at nights, another consumed in Gameboy, whilst parents remain in their own oblivious worlds …)
Pray for us, Lady of Knock, Queen of Ireland.
Pray for the League of the Holy Family.
Pray for Ireland.
Buying Books at Amazon Through These Links Gives Us a Commission. This Supports Our Apostolate. Thank You if You Can Help Us Like This!