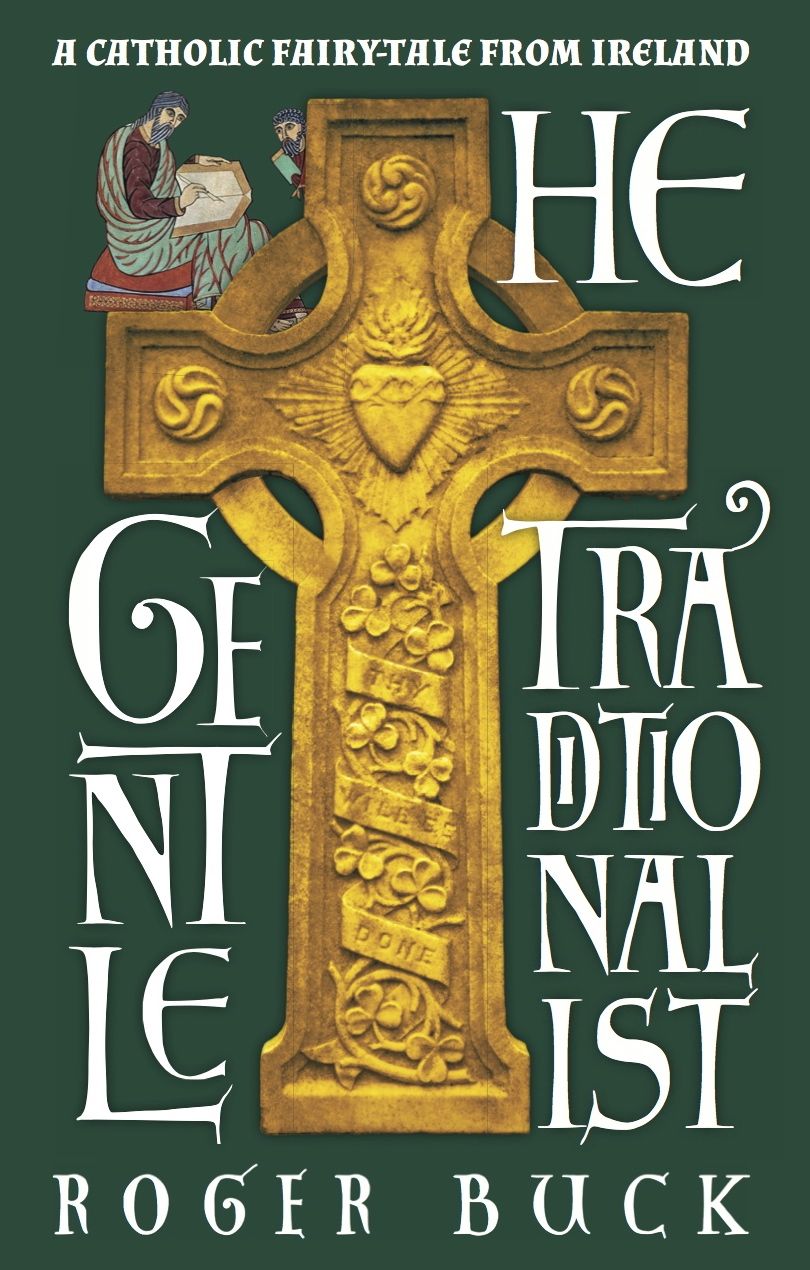 As my husband Roger wrote in one of his recent blogs, he doesn't like 'blowing his own horn'. But he feels forced to in order to promote his book The Gentle Traditionalist. And it is necessary, I think, because this book, I believe, has a mission to help rekindle the Catholic faith. That is indeed why it was written.
Therefore, I have decided to pump up the volume: to help Roger 'blow his horn'!
Now, Roger always tells me that I am his greatest fan, so perhaps you'd better not believe what I say here!
But, I cannot help myself:
The Gentle Traditionalist, Roger's first book (first chapter online here) is utterly BRILLIANT. It is a masterpiece!
And if you have read the praise for the book, you will see that I am hardly alone in thinking this.
In fact, when a reader/editor at Angelico Press first read the manuscript, this is what he said:
This is charming, insightful, clever, and absolutely delightful book that does Catholic apologetics better than just about anything I've seen. Totally sound Catholicism and deceptively compelling.
Then, one of the proof-readers suggested that The Gentle Traditionalist should be air-dropped on every home in Ireland!

The book isn't just for Ireland though —I wish confused Catholics everywhere could read it!
More recently, Angelico Press announced Roger's book to the world, saying:
For all Catholics — devout, lukewarm, or fallen-away — and indeed for all unbelievers as well, Roger Buck's new book is one of the most gently persuasive and compelling cases for the Church and the Catholic faith you will ever read.
So, why are we all raving about this book?
Because it addresses some of the most pressing issues of our time – all from a strong Catholic standpoint – and it does so in a way that is hilarious, moving and easy to read. It is like a manual, covering the most tumultuous problems we face today.
Because whilst being firmly Catholic, The Gentle Traditionalist addresses the Secular and New Age perspectives now taking over the West.
Clear and accurate descriptions of these perspectives flowed easily from Roger's pen – because he was once so secular and New Age himself.
In fact, he worked for approximately twenty years, propagating liberal and New Age ideas. Then, through his own radical transformation to the Catholic faith, his heart has surrendered ever deeper into the Catholic Mystery.
I have watched him year by year, little by little, becoming progressively more traditional, as, within himself, he battled within his past ideas and beliefs.
As a result of these inner struggles, Roger has been able to write a firm, steadfast apologetic of the faith. (All in the most gentle manner, humanly possible, of course – to take a recurring phrase from the book.)
Therefore my husband's book is about:
The Secularisation of the West
The Hunger for Spiritual Mystery in the resultant secular desert
The Modern Church not providing the depth of mystery it once did.
People turning to the New Age instead, in search of mystery.
The difference between the Anglo-American Protestant cultures and Catholic cultures. Or rather, between Sacramental cultures and non-sacramental cultures.

For years, Roger has been writing an enormous, detailed tome, entitled Cor Jesu Sacratissimum (soon to be published by Angelico Press), extensively covering these very issues.
By contrast this small book, which erupted in a matter of weeks, touches lightly and tenderly on these same themes.
It is written in the form of a romance, set in Monaghan, Ireland, between a secular, sceptical man and a traditional Catholic woman. Then, the man meets the most unusual Gentle Traditionalist and they begin a dialogue of ideas, which is really more apologetics than anything else.
I find Roger's book incredibly funny, deeply moving, mysterious and tragic. It presents Church teaching clearly and simply (in a way I think Canon Ripley would be proud of!)
And, all the time, it draws on the the central mystery, which lies at the heart of the Church, pervading the book with a subtle magic, which is the Catholic faith.
I would say therefore that this book is written for many people. It is for all those who are:
Concerned about the brutal secularisation of culture, a creeping fascism under the guise of neutrality.
Struggling with Catholicism and are searching for clarity.
Wanting to understand the real issues at stake in the clash between Catholicism and the 'New Secular Religion' and the New Age movement.
Desiring to learn more about the Mystical Body of Christ and the unfathomable, sustaining Sacramental Mystery of His Church.
Longing to rekindle the faith, in Ireland and everywhere.
Needing to understand something of what has happened to the faith in Ireland (and elsewhere) over the last fifty years.
Seeking better understanding of the repercussions of silencing of the Catholic faith in the Anglo-American world.
And it is more!
All presented within an easy dialogue format, with accessible language, a warm heart and quirky humour.

The Irish author Mary Kenny describes the book as 'surreal' and 'eccentric' and 'written throughout with passion and engagement, with a touching and deep-seated love for Ireland.'
Roger loves Ireland dearly and is passionate to contribute, in whatever way he can, to saving Irish Catholicism.
And this is the real point to all my enthusiasm and raving here. For, I think, by the Grace of God, Roger has achieved something that can truly help.
For this book is a much needed manual, of clear Church teaching, providing doctrine and ideas, which can really clarify the challenges the Church faces in our day, whether it be from secularism the New Age and more. Therefore it will help Catholics steer through the onslaught of misunderstandings and attacks currently being launched at the faith.
As Charles A. Coulombe has graciously said, The Gentle Traditionalist is:
As brilliant a guide for the perplexed as this age is capable of producing.
Foreword for Monarchy by Roger Buck
Buying Books at Amazon Through These Links Gives Us a Commission. This Supports Our Apostolate. Thank You if You Can Help Us Like This!