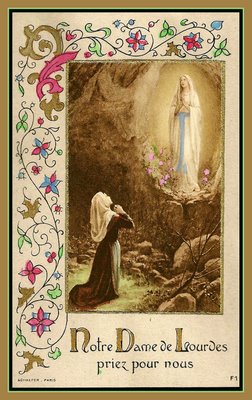 Today is the Feast of St. Bernadette Soubirous, the young shepherdess, who received the Apparitions of our Lady at Lourdes, in 1858.
St. Bernadette was born in 1844. And to understand her life and mission, it is necessary to see understand something of her times. To start with, the Church in Europe was beset with countless problems.
Revolutions, fomented by secret societies, were attacking the old structures of Christendom everywhere.
Two Popes had been kidnapped by Napoleon.
And in France, Spain and Italy, among other places, priests were exiled, convents and monasteries forcibly suppressed and churches desecrated.
The Christian Mystery was being everywhere denied.
Yet, at this time, devotion to the Blessed Virgin Mary was on the increase.
For France had born witness to a startling series of Apparitions of the Blessed Virgin Mary.
First, in 1830, She had come to St. Catherine Laboure in the Rue du Bac. There, She had requested that a medal (known as the Miraculous Medal) be struck and disseminated.
Then, in 1846, the two shepherd children, Melanie Calvat and Maximin Giraud, saw our Lady appear on the mountain at La Salette.
She wept before the children, telling them of how grave it was that people were drifting away from the faith and obedience to the Church.
As the Miraculous Medal spread among the faithful, it brought fruits of healings and conversions. The message of La Salette began to bring the faithful back to the Church. Marian devotion spread from France across Europe.
The Holy Father, Bl. Pope Pius IX was greatly troubled by the difficulties the Church faced. He too was deeply devoted to Mary and therefore decided to petition the August Mother of God on behalf of Holy Church.
With the backing of the majority of the world Bishops, he established the dogma of Mary's Immaculate Conception.
On the Eighth of December 1854, it was proclaimed that Mary was indeed conceived without sin. The Immaculate Conception was officially declared an article of faith.
Just four years later, on February 11th, 1858, Our Lady appeared once again in France.
This time it was to young Bernadette Soubirous.
Bernadette was born on the 7th January, 1844, to a humble miller and his wife. Baptised Marie-Bernarde, she was familiarly known as Bernadette.
At just a few months old, her mother suffered an accident, so Bernadette was sent to a wet nurse in Bartres, a nearby town. Although she only stayed there for one year, this excursion would have implications later on in her life. For her wet nurse became deeply attached to the baby girl.
Bernadette's life was far from easy. Her father lost his eye and was unable to make a living at the mill, so the family moved. Due to repeated situations where work was scarce, they moved again and again, into poorer and poorer situations. Until they arrived at the bottom of the social ladder, inhabiting a stinking, damp hovel, "the Cachot", a small room, which used to function as a prison.
Here, the family of six resided and poor Bernadette suffered incredibly. For, she developed asthma and spent many a night gasping for breath. Having previously been weakened by cholera, Bernadette's health was already poor.
Eager to receive her First Communion, Bernadette began religious education in Lourdes. But, her wet nurse desired that she come and help at Bartres, in the house and tending the sheep. This meant that Bernadette was separated from her family and her study.
Yet, she was determined to learn, so would read her Catechism at night after a hard day's work. A year later, in January of 1858, it was back to the rotting Cachot and life continued as normal. That is, until February 11th, the same year.
And here is what happened on that miraculous day.
Bernadette was collecting wood near by the rocky outcrop of Massabielle, on the outskirts of Lourdes in the Pyrenees.
It was there that she felt a sudden wind rush about her. It startled her – for it was a calm day. The wind came a second time. She then noticed a small wild rose bush, growing upon the rocky outcrop, begin to move.
Keeping her attention above the small rosebush, she saw a luminous figure appear there.
She described this figure as a beautiful young girl of about her own age.
The figure was dressed in white, with a blue sash about her waist and a white veil upon her head. She was surrounded by a heavenly light and appeared within a golden cloud.
This apparition was the most beautiful thing Bernadette had ever seen and she wished she could die if only to see the vision again.
And sure enough, despite resistance from many quarters, she did see the beautiful young lady again. In fact, she experienced a serious of eighteen Apparitions, from February 11th to July 16th.
Throughout this time, Bernadette would unearth a miraculous spring. She would attract thousands of persons, who wanted to witness the Apparition, or see Bernadette's face, resplendent at the sight of the beautiful Lady.
But, perhaps more importantly, she was the instrument by which Heaven brought about these miracles, making way for perhaps the greatest Marian pilgrimage site in the world.
Therefore, in these troubled times for the Faith and the Church, Bernadette's mission was to strengthen the faith, not simply in Lourdes, but throughout the Catholic world.
So who was Bernadette?
Having looked at various recollections of her life, I have found the fullest, best account of St. Bernadette's character in The Song of Bernadette by Franz Werfel (which I've reviewed here). Whilst Werfel has written it as a partly- fictitious novel, his account remains based on the facts of St. Bernadette's life – and a penetrating understanding of her nature. And it is a most moving work -richly portraying a beautiful, pure soul.
Bernadette's life is transformed by her witness of the Apparitions.
From the moment she saw the 'Beautiful Lady', as she calls her, Bernadette is changed. She is completely bowled over with the love she has experienced from this heavenly creature. And she returns that love as best she can.
She longs for nothing more than to be with the 'Beautiful Lady'. And when she does see her, she becomes transported in ecstasy. She has no idea of who or what is around her.
All that remains real to her in those moments is the heavenly vision before her.
When the Apparitions cease, the interrogations continue. Poor Bernadette is barraged with questions from every quarter, police, mayor, clergy and family. Everyone is set to destroy the truth of what has occurred. For each quarter is threatened and wants to protect the status quo.
But Heaven has spoken and Bernadette has been the recipient of grace, so much so that she can do nothing but speak with the voice of her truth. And as we know, truth triumphs and many are converted and the Church does indeed approve the Apparitions. And millions of pilgrims have visited Lourdes and have been healed or converted.
So, within this hive of speculation and opinion, as to who the lady is, or what really happened at the grotto of Massabielle, Franz Werfel captures the beauty of St. Bernadette.
Here are some of my impressions, taken from a review I wrote of that book:
Bernadette … seems to display [a deep] morality and even then, she is unconscious of the fact. This is a huge part of her appeal, in that she does not 'try to be good', she simply is good.

And it is this goodness, which brings her unhindered through barrages of questioning and interrogation, which would render most people powerless.

Her loyalty to truth and her simplicity merge, producing a sweet young woman, who is simply not understood. For, she is unable to play the games that most people play – games of power, games of pride.

And her adherence to her own naturalness is that which begins to transform the community in which she lives and becomes the most famous person. Yet, her humility is such, that she is totally unaware of her great and saintly reputation …

Bernadette was a dreamy child. And this dreaminess affected everything, including her schooling. As the oldest child at school and at home, she appeared backward, as was very simple in her learning.

Yet her strong resolve and her lack of understanding as to why people stray from the truth, gave her a very strong character. She possessed a deep wisdom, beyond most who came into her company.

Since [her] first encounter [with the Blessed Virgin] Bernadette is in love with the beautiful Lady and nothing else in the world matters to her. Even the prospect of jail does not bother Bernadette. All she cares about is that the Lady is honoured and obeyed. But most important of all to Bernadette, is knowing that the Lady loves her.

And in her own way she tests this love and is repeatedly assured that the Lady does indeed most deeply love Bernadette …

[At times] Bernadette acutely feels the Lady's sadness and immediately acts, desperate to alleviate the Lady's suffering.

She makes the sign of the cross, prays her rosary and even slides across the stones, causing her knees to bleed. Bernadette longs for the throngs of people who have come to witness the Apparition, to imitate her acts of penance, to further alleviate the Lady's suffering.

[Franz] Werfel paints a beautiful picture of Bernadette. Her large, brown eyes, soft voice and humble stance are evoked repeatedly and shown to soften even the hardest of hearts.
For instance, Bernadette's teacher, Sister Marie Therese Vauzous, is a harsh character whose strictness attempts to crush the life out of any young girl or woman placed in her care.

Near the end of the book, the miraculous nature of the love of the Lady, working through Bernadette, effects sister Vauzous' conversion.

Her pride softens and her doubt in Bernadette and the lady, disappears.

Also, the Dean of Lourdes, Marie, Dominique Peyramale, is converted.

He was a staunch opponent to the visions, yet becomes Bernadette's gentle giant of a protector. It was through his influence that Bernadette found her way into cloistered life.

She became Sister Marie Bernarde, of the Sisters of Nevers and stayed there until her death.
And she died, surrounded by her sisters and the Dean Peyremale.
At times, Bernadette was tortured, remembering wrongs she had committed in life. It is as though she needed to purge herself od everything unpleasing to the Lord.
Wracked with pain from tuberculosis of the bone, a terrible tumour on her knee, she died as she had lived – bearing her suffering with incredible strength and acceptance.
She had been known to say:
'When you're sure that the dear Lord wishes it so, you don't complain.'
Holding a Crucifix tight to her chest, she whispered:
'Holy Mary, Mother of God! Holy Mary, mother of God! Pray for me … poor sinner … poor sinner …'
All was calm and she passed away into the other world, perhaps deeply aware of Our lady's words to her:
'I do not promise you happiness in this world, but in the next.'
St. Bernadette, pray for us.
O Mary conceived without sin, pray for us who have recourse to thee.
Our Lady of Lourdes, pray for us.
Note: A far more detailed account of the eighteen Apparitions of Our Lady of Lourdes is featured at this website – taken from a well-researched, exceptional book from 1904. It is serialised in ten parts here:
Buying Books at Amazon Through These Links Gives Us a Commission. This Supports Our Apostolate. Thank You if You Can Help Us Like This!