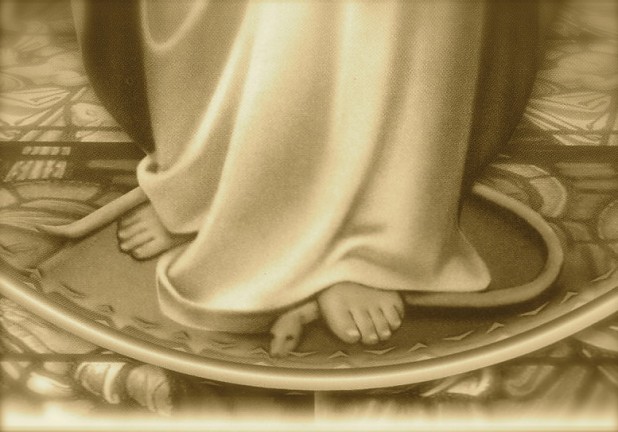 Last time, we looked to Pope Leo XIII and his 1884 warnings about Freemasonry:
There are several organised bodies which, though differing in name, in ceremonial, in form and origin, are nevertheless so bound together by community of purpose and by the similarity of their main opinions, as to make in fact one thing with the sect of the Freemasons, which is a kind of centre whence they all go forth, and whither they all return …
No longer making any secret of their purposes, they are now boldly rising up against God Himself. They are planning the destruction of holy Church publicly and openly, and this with the set purpose of utterly despoiling the nations of Christendom.
And Pope Leo XIII makes clear the philosophy that animates this endeavour. He calls it naturalism – saying that:
The fundamental doctrine of the naturalists, which they sufficiently make known by their very name, is that human nature and human reason ought in all things to be mistress and guide.
And we noted that:
In other words, naturalism denies anything which might transcend things like rationalism and empiricism – such as Christian Revelation. And Pope Leo XIII goes on to say, in the same encyclical:
Their ultimate purpose forces itself into view – namely, the utter overthrow of that whole religious and political order of the world which the Christian teaching has produced, and the substitution of a new state of things in accordance with their ideas, of which the foundations and laws shall be drawn from mere naturalism. …
Human nature was stained by original sin, and is therefore more disposed to vice than to virtue. For a virtuous life it is absolutely necessary to restrain the disorderly movements of the soul …
But the naturalists and Freemasons, having no faith in those things which we have learned by the revelation of God, deny that our first parents sinned …
So very much of our modern age is prefigured here, dear Reader, including what my beloved has called New Age Denial of the Fall.
Today, we will begin with noting the very obvious: denial of the Fall leads to denial of the Redemption.
There is no need at all for a Redeemer, if one is unconscious of having fallen.
Moving from Pope Leo XIII in 1884 to 2013, one may see so much in contemporary culture that would appear to vindicate the Holy Father's concerns for de-Christianisation in the Nineteenth Century.
Does this indicate the triumph of Freemasonry?
I am not competent to provide any satisfying answer to that query. Still, I raise it as a question that is worthy of profound reflection.
And I also post a further extract – slightly modified – from my upcoming book that speaks to the situation today.
It need only be explained, I think, that my book features comments from real people I know. One of whom I call Les is featured in the following book extract.
The Fall: It is not simply the New Age that has effaced the understanding of Original Sin. It is likewise buried by secular culture.
Have we not heard it endlessly repeated that nothing is essentially wrong with human nature?
Have we not heard it endlessly regurgitated that the fault lies in our conditioning? 'Society screws you up'; 'school screws you up';'parents screw you up'; 'the Establishment screws you up' …
But never: 'You were born screwed up'. People would seem to assume that we were somehow born immaculate – before being messed up by our parents, school and culture.
All this is common in our contemporary civilisation and is rooted in Enlightenment thinking – perhaps most particularly that of Jean-Jacques Rousseau.
Today, it would seem we have arrived at something like the secular supposition of Original Innocence. At least, the understanding that people are born fallen startles many folk today.
The notion of human nature as corrupted from the outset comes as a complete novelty to them. It can be even more jolting to realise that there was a time when this idea was not novel at all. It was integral to the entire Christian culture that Europeans lived and breathed.
Thus, after I had spoken to Les regarding the Fall, he wrote:
What you said … about the human condition being broken (although I think it may have been different words you used then) has stuck in my head and I have often thought about it, particularly when I try to understand all the mad things going on in the world.
My words 'stuck' in Les' head precisely because the idea of the Fall is no longer mundane or commonplace in Western civilisation.
The idea would never have impressed him unless it was novel to him.
I then pointed out to Les that the notion of the fallenness of human nature was once central to our culture. His honest response is telling indeed:
I have actually never been aware that [as I had put it to Les] 'fundamental brokenness of the human condition was once at the very core of the entirety of Western Culture' and am very interested in understanding this also and why I have not known it [Emphasis mine].
I am grateful to Les for allowing me to quote his frank confession of cultural ignorance. He strikes me as an honest soul indeed, remarkably free from the need to display erudition or impress people. Yes, I thank Les because his wholly honest admission reveals the crisis of Western culture.
Let us examine Les's admission – and what it entails.
First, he admits that 'my' notion of inherent fallen-ness has 'stuck' in his head, provoking thought. It would appear that it seemed somehow odd to him – yet helpful in understanding the 'mad things' in this world.
Then, he reveals his ignorance that this notion was once fundamental to Western culture. Then, he asks: Why was I never told this?
It might be added that Les was nearly forty when he wrote these words and that he has one of the finest university educations that Britain can afford.
Yet Les has been robbed.
Nothing in his education has given him any real inkling of his cultural roots. Nothing in nearly forty years of media and entertainment have provided it either. He is yet another victim of the blackout of the Christian Mystery.
So many will live out their lives entirely enshrouded by Secular Materialism. So many will never know what it really means that Europe was once Christian.
Europe, moreover, was not simply Christian, but traditionally Christian. This is to say: It was once Catholic-Orthodox.
For European culture was formed by the tradition of the Latin West and the Greek East.
It was formed by those Churches which are traditional, inasmuch as they have preserved fifeen centuries of tradition prior to the Reformation and they never rejected that tradition for sola scriptura.
For if we travel back in time to the Fifteenth Century – i.e. the period just before the Protestant Reformation, what do we find? Europe, from Paris to London to Munich, is Christian.
This Europe understands the Fall.
And it is not only Western Europe, because from the East to the West, European souls understand the Fall. And from Moscow to Constantinople, the Eucharist is celebrated. And from Bucharest to Dublin to Reykjavik, people recognise why they need the Sacraments.
The Holy Mass is celebrated because Europe is Christian, because Europe understands the nature of the Fall and because Europe understands the need for a Redeemer from the Fall.
And Europe recognises that in the Holy Mass, we meet the One who has come to help us in our hour of need. We meet the One whose Sacred Heart CARES – infinitely – for our fallen, darkened, broken hearts.
We meet the One whose Heart is pierced – pierced for us.
But in Europe today, all this is forgotten, even by very thoughtful people, with the finest university educations …
Foreword for Monarchy by Roger Buck
Buying Books at Amazon Through These Links Gives Us a Commission. This Supports Our Apostolate. Thank You if You Can Help Like This!